Erosion Control Mat
Excelsior Control mat
The Excelsior Erosion Control Mat is a biodegradable option designed to address erosion control requirements in level or low flow areas. Made from 100% aspen wood, these mats provide erosion control, stabilization and coverage for up to twelve (12) months.
Working to provide superior coverage in your location, over 80% of the fibers in this mat are six inches (6") or longer. This helps to increase their strength and use in a range of environmentally sensitive locations. All aspen wood/excelsior mats are rated for slopes up to 3:1 and flows up to 6 fps. As with many of our erosion control options, excelsior mats are 100% biodegradable for protective use in your location.
If you have questions about products, give us a call at (+1) 772.646.0597 or toll free at (+1) 888.703.9889 or request a price quote.
Features:
Construction: 100% Aspen Wood Fibers
Netting: Natural Jute/Scrim Leno Woven Nets
Thread: Biodegradable Cotton Thread
Recommended Slope: Up to 3:1
Recommended Flows: Up to 6 fps

Benefits:
100% All Natural
100% Biodegradable
Establishes Vegetation Growth
80% of Fibers are 6 Inches or Longer

Typical Erosion Control Applications:
Aspen Wood Mats
Technical Specifications

Property
Details
Roll Width
8 ft. (2.44 m)
Roll Length
90 ft. (27.4 m)
Roll Area
80 SY (67 sq. m)
Unit Weight
11.5 oz/SY (390 g/sq. m)
Recommended Shear Stress on Bare Soil
1.6 lbs/sq. ft. (77 N/sq.m)
Recommended Slope
3:1
Recommended Flow
6 fps (2.1 m/s)
Material Composition
Top Net/Bottom Net: Jute/Scrim (Leno Weave) 9.3lbs/1000 sq. ft. Thread (Stitching): Biodegradable Cotton
Additional Erosion Control Mats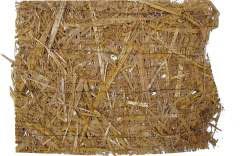 In addition to the short term aspen wood matting featured here, we also offer several other options for erosion control and soil stabilization in your area. Items have included the following:
Single Net Straw Blankets
Double Net Straw Blankets
Coconut Coir Blankets
Straw/Coco Blends
For these other erosion control options, please check out Erosion Matting.