Geotextiles Woven
Woven Geotextile
Geotextiles Woven are a reliable fabric material used to stabilize areas under pavement, roads, sidewalks and other infrastructure. Made from a highly durable polypropylene silt film, these fabrics remain high in strength against UV exposure, mildew, biological degradation factors and several other chemicals found in soil. This helps the fabric to remain stable and effective for the duration of their use.
The woven fabric option featured here is constructed with a 200 lbs. grab tensile strength, making them equipped for increased amount of pressure on top of the material. All geotextile fabrics are sold by the roll for adjusting and placement in your location.
If you have questions about products, give us a call at (+1) 772.646.0597 or toll free at (+1) 888.703.9889 or request a price quote.
Features:
Fabric: Woven Polypropylene Slit Film
Additional Components: UV Stabilizer
Typical Roll Size: 600 yd2 per Roll

Benefits:
High Strength Woven Design
Economical
Robust Fabric Design
Excellent Balance of Strength and Separation
Rot Resistant
UV Resistant
Chemically Inert

Typical Erosion Control Applications:
Stabilization
Separation
Hydraulic Construction
Railroads

Woven Geotextile 200 lbs. Grab Tensile
Technical Specifications

Property
Test Method
Unit
Minimum Average Roll Value (M.A.R.V.)
Grab Tensile
ASTM D4632
lbs (kN)
200 (.9)
Grab Elongation
ASTM D4632
%
15
Trapezoid Tear Strength
ASTM D4533
lbs (kN)
75 (.334)
CBR Puncture Resistance
ASTM D6241
lbs (kN)
700 (3.12)
Permittivity*
ASTM D4491
sec-1
0.05
Water Flow*
ASTM D4491
gpm/ft² (l/min/m²)
5 (203)
A.O.S*
ASTM D4751
U.S. Sieve(mm)
40 (.425)
UV Resistance
ASTM D4355
%/hrs
70/700

View Material Spec Sheet



Packaging
Details
Roll Dimensions (W x L) - ft

12.5' W x 432' L
17.5' W x 309' L

Square Yards per Roll
600

Request Pricing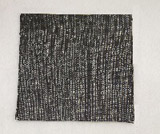 Similar to our other erosion control products, Geotextiles Woven are available in several different strengths to accommodate different locations, projects, and requirements. Depending on your location and the amount of weight you need to place on the geotextile, different strengths may work better than others for our application. Available woven material options include:
200 lbs. Grab Tensile
250 lbs. Grab Tensile
315 lbs. Grab Tensile
For higher levels of filtration or permittivity, we also offer Nonwoven Geotextiles for drainage and more.