Rip Rap Erosion Control Products
Hello. I am looking for rip rap erosion control products. I am trying to put down about 100 feet of rip rap on a river bank and I am trying to figure out which type of erosion control product I would need in this application.

For stabilization of soil and materials under rip rap, the most common product you might consider would be a geotextile fabric material. Often, when looking for rip rap stabilization, the geotextile chosen will be high in strength with specific filtering properties to help filter out the water that flows from the surface into the ground. This filtering is often needed in conjunction with soil retaining, specifically the protection of small particles.
Common materials considered for this type of erosion control include both a woven and non woven geotextile material. Choosing the correct fabric for your application often depends on several factors including
Amount of weight the fabric will need to handle
Amount of water that will need to flow through the fabric
Size of the soil particles needing to be retained
Necessary strength to handle additional stresses placed on the material during installation.
Woven Geotextile: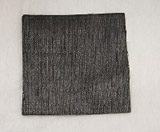 Woven geotextiles are a good choice for this type of application and are commonly placed under rip rap in areas that require a certain amount of water permittivity or flow. These geotextiles vary in tensile strength and have multiple apparent opening sizes.
Many of the woven geotextiles listed on our site will offer a high layer of strength for holding up during installation and several meet AASHTO Class I or Class II standards.
The woven geotextile variety includes the following:
Grab Tensile Strength: 180 lbs. to 315 lbs.
Weight: 3.8 oz/yd² to 6.3 oz/yd²
View all Woven Geotextiles

Non Woven Geotextile:
The nonwoven geotextile typically features a needle punched design that allows for some filtration. These geotextiles have also been used in some DOT rip rap erosion control installations and can provide necessary strength and filtering properties.
View a Non Woven Geotextile