Stormwater Solutions

BMP's To Help Keep you in Compliance
BMP Stormwater Solutions are designed to help control the spread of materials during construction jobs, erosion control or other areas where sediment, silt or oil is heavily present in the runoff. Made in several different models, these stormwater products fit in drains, on top of drains, or along curbs to filter out materials before they enter the drain. Please feel free to browse through our variety listed below, or check out BMPs in the Granite Environmental Store.


---


Drain Guards: One of the most commonly used products for stormwater runoff is an item known as the drain guard or catch basin filter. These guards fit directly into the drain and contain a narrow collection point that catches sediment, debris and other contaminants. Depending on your site, models will include Oil & Sediment Models, Trash & Debris Models, or Heavy Metal Control.

---



Reusable Catch Basins: While the standard drain guards are ideal for filtering out unwanted materials, reusable catch basins are perfect for any location dealing with a significant amount of silt or sediment. These reusable guards feature a robust plastic design that can hold up to 500 lbs. of materials.

---




Curb & Gutter Guards: For side drains, curb gutter guards work to block, filter and control the flow of materials into the curb. Available models include inlet logs, gutter guard, and curb drain inserts.

---



Storm Water Filters: When added filtration is a requirement, storm water filters are available to help remove debris, oil, and other materials from your water. Filters have included debris screens, oil and debris blockers, downspout filters and more.
---
Looking for pricing on a BMP? Check out these products in our Granite Environmental Store!
Stormwater Solutions BMP Categories
Stormwater BMPs are available in several different models and styles to accommodate various filtration requirements. Some of the most common stormwater categories include the following:

Drain Guards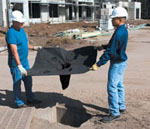 One of the most common stormwater solutions products is known as the Drain Filter Guard. These products are designed in several styles including a witches' hat design, catch basin filters and more. In general, the drain guards are typically separated into the following models:


Oil & Sediment Model
High Capacity Oil & Sediment Model
High Capacity Sediment Model
Heavy Metal Model
Drain Seals
For more information on these drain guards as well as pricing, please check out Drain Guards in our Webstore.

Storm Drain Covers
Another great option for stormwater filtration is our storm drain covers. These items are available as impermeable drain seals or storm filter covers, depending on your site requirements. Options include the following:
Polyurethane Drain Seals
Storm Inlet Guards
Drain Filter Covers
View all of our Stormwater Solutions

Additional BMPs
We also offer several additional BMPs and pollution control devices for use in water construction site locations such as
Pile Driving
Bridge Repair
Dock Cleaning
Dredging
Construction Near Water Areas
Roadside Construction
One of our most popular products for this control would be the Silt Barrier or Turbidity Curtain. Please check out our Turbidity Curtain Page for options and additional information.
See What Others Are Saying About Our Stormwater Solutions Products: