Erosion Control Fence
Hello. I am looking for an erosion control fence that I can use around my construction side to prevent erosion and control sediment. Do you have this type of BMP?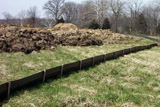 Thank you for contacting us! For erosion and sediment control, a great choice is the Erosion Silt Fence. This silt fence is made from a woven geotextile material that is UV resistant and attaches to staked to provide control for the duration of your project. This silt fence is commonly used as BMP (best management practice) to protect your site and prevent sediment from leaving the site and contaminating storm drains.
If you have questions about products, give us a call at (+1) 772.646.0597 or toll free at (+1) 888.703.9889 or request a price quote.
Features:
Material: Materials commonly used on this fence include a woven polypropylene or nylon material. This type of filtering geotextile provides a firm barrier that can effectively trap sediment.
UV Resistance: The silt fence often features materials that have a high UV resistance as they are often used in outdoor locations. This helps to ensure that your fence will remain strong through extended outdoor use.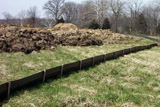 Barriers can be placed along the perimeter of your site and installed using either wooden stakes or metal posts. If using strong wood, such as oak, stakes should be a minimum of five feet long and have a minimum diameter of about two inches. For softer woods, four inch diameters are required.
Depending on the amount of sediment build-up and various other site conditions, the silt fence has a life expectancy of approximately six months. To increase this lifespan, wire mesh is commonly used to reinforce the fabric and provide additional framework for sediment control and erosion prevention.

The silt fence can be used in small drainage areas where runoff does not exceed 0.5 cfs. Learn More