Erosion Control Wattles
Wattles for Stormwater Runoff and Inlet Protection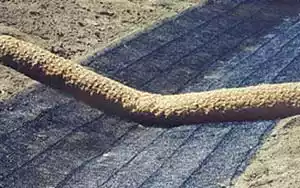 Erosion control wattles are used around construction sites, storm drains and low flow channels to filter and control stormwater runoff. Often implemented as a pollution control device, these wattles are made from all natural fibers such as coconut coir or straw. These materials are designed to filter out pollutants and then naturally biodegrade over time. This eliminates environmental concerns and removes the need for cleanup or disposal.
Wattles are made from a range of different diameters to accommodate different slopes, requirements or water flows. For long erosion control areas, multiple wattles can be joined together until the required length is formed.
Our friendly staff is here to help you get the exact product you need!.


Coir Wattle Features
Double Cleaned Unsorted Coconut Fiber
High Strength Coir with Knotted Junctions
Diameters: 6" and 8"
Lengths: 10' and 20'
Filter Capabilities
Erosion Control Wattle Benefits
Biodegradable: This makes the coir environmentally friendly for safe bank restoration.
Easy to Cut: This allows you to adapt the coir to your particular location.
Lightly Packed: This enables filtering for easier use along banks and in water based locations.
Also functions as a BMP around drains.
Coir Wattle Applications
Coir wattles have been used in several different applications including:
Silt and Sediment Control
BMPs around Storm Drains
Water Filters
Coir Wattle Specifications
| | | |
| --- | --- | --- |
| Diameter | 6 in (15 cm) | 9 in (23 cm) |
| Length | 10 or 20 ft (3.05 or 6.10 m) | 10 or 20 ft (3.05 or 6.10 m) |
| Weight | 1.5 lbs/ft (2.23 kg/m) | 3.0 lbs/ft (4.46 kg/m) |
| Density | 7 lbs/ft³ | 7 lbs/ft³ |
| Inner Core | Double Cleaned Unsorted Coir Fiber | Double Cleaned Unsorted Coir Fiber |
| Netting | Coir Twine with Knotted Junctions | Coir Twine with Knotted Junctions |
Additional Product Information:
Not sure if the coir wattle is right for your application? Read through our Coir Products FAQ or give us a call! We are always happy to discuss project needs with our customers to determine the best product for your application.
In addition to the coir wattle shown here, we also offer Straw Wattles.
Looking for something stronger? In addition to the coir wattle, we also offer Coir Logs. These erosion control logs will have an extremely similar exterior, but will be much more densely packed. This creates a strong barrier along banks, shorelines and hills.
See also this affordable USA made alternative to coir: Excelsior Erosion Control Excelsior Logs.
Learn more about Erosion Control Wattles and Sediment Control Products and our Erosion Control Line Card.

Customers Who Viewed This Product Also Viewed


Dewatering Bags
Erosion Control:
Coir Wattles
Construction BMPs
Questions? We can help! Call our team at 1-863-261-8388 or fill out our quote request form to discuss your requirements.