Stormwater Solutions
BMPs To Help Keep you in Compliance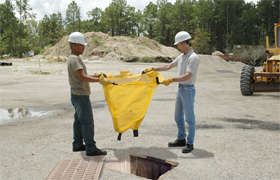 BMP Stormwater Solutions are an essential part of any stormwater, erosion, or sediment control plan. Designed to protect catch basins, street drains, inlets, curbs, or other stormwater collection points, these products are a great solution to any site plan. Made from multiple high strength fabrics and filters, these products can help address hydrocarbons, debris, and silt on your site.Our product variety can be seen below.
If you have questions about any of our products, give us a call at 1-772-646-0597 .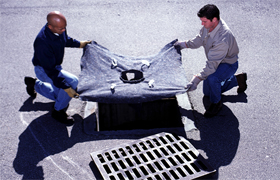 Taurus Over Grate Drain Cover is our patented filtration solution made with geotextile material to stop debris and pollutants from entering a storm drain. It can be installed by one person in minutes and is available in both high and low visibility models. (U.S. Patent No. 10,053,383 B2)
Advantages:
Filters debris before they enter drains
Quick & easy installation
Long field life and cost savings
Street sweeper friendly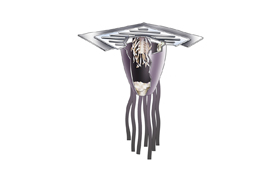 Taurus Hopper Under Grate Filter is durably built to filter water as it runs down storm drains by catching debris and suspended solids. The Hopper is street sweeper friendly, and can hold thousands of pounds of pressure.
Advantages:
Low profile
Overflow ports to prevent flooding
Street sweeper friendly
Folds flat for easy storage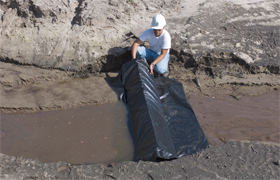 Taurus Ditch Check works like a mini check dam to keep water free of debris and pollutants, and helps keep sites in compliance. Ditch Checks have an extremely long use life, providing incredible cost savings for users.
Advantages:
Self rising
Extremely long use life
Easy maintenance
Overflow ports for high flows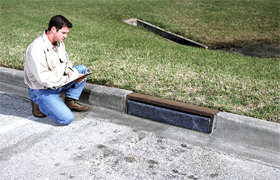 Taurus Curb Inlet Filters are installed by one person in just one step. They sit invisibly inside a curb drain to catch debris and sediment until the hopper is emptied for long term stormwater filtration.
Advantages:
Street sweeper friendly
One step installation
Extended field life
Invisible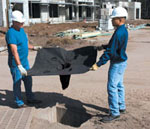 Catch Basin Drain Guards are a great option for any site work taking place along roads, parking lots, or residential areas. Designed to filter and contain pollutants, these drain guards secure within the drain to catch and contain unwanted materials.
Model Variations Include:
Oil & Sediment Models
Trash & Debris Models
Catch Basin Drain Guards
Reusable Catch Basins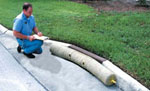 Curb and Gutter Guards are an easy option for any curb side inlet or drain. Quick to install, these guards are an easy replacement for sand bags or other multi-step protection system.
Available models include:
Inlet Logs
Gutter Guards
Curb Drain Inserts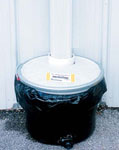 Storm Water Filters: When added filtration is a requirement, storm water filters are available to help remove debris, oil, and other materials from your water. Filters include:
Debris Screens
Oil & Debris Blockers
Downspout Filters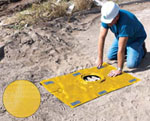 Storm Drain Covers: One of the easiest ways to protect your street drains is through the use of a storm drain cover or seal. These items fit on top of drains to filter flows as they enter the drain and seal off entire systems to block contaminants.
Debris Screens
Oil & Debris Blockers
Downspout Filters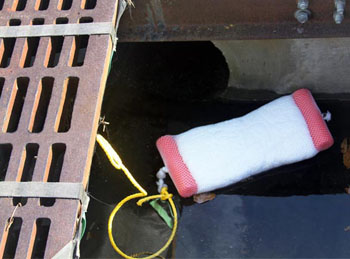 Oil SheenSorb Passive Skimmer: Protects storm drains, tanks, sumps, or catch basins from oil and other hydrocarbon contamination.
Construction sites
Industrial sites
Fuel station lots

Need help installing your drain guard, covers, or other inserts? For Grate Hooks and other accessories please call us at 1-772-646-0597!
Additional BMPs
We also offer several additional BMPs and pollution control devices for use in water construction site locations. Products include:
Pile Driving
Bridge Repair
Dock Cleaning
Dredging
Construction Near Water Areas
Roadside Construction
One of our most popular products for this control would be the Silt Barrier or Turbidity Curtain. Please check out our Turbidity Curtain Page for options and additional information. Additional products include coir wattles, logs, blankets as well as robust Silt Fencing.
Other Product Categories
Questions? We can help! Call our team at 1-772-646-0597 or fill out our quote request form to discuss your requirements.