Erosion Sediment Control Menu
Erosion Sediment Control Products
Coir, Dewatering Products, and Fencing
Erosion sediment control is a necessity for any project, job site, or work location where soil or natural vegetation has been disturbed, moved, or cleared. Since these areas are most at risk of pollution due to sediment runoff, erosion and sediment control products are frequently implemented to contain and filter silt. With items like erosion control wattles, logs, and dewatering bags, contractors are able to effectively control runoff and keep sites in compliance. Please feel free to browse through the product variety below to find the best options for your location or give us a call at 1-772-646-0597.
Coir Logs and Wattles
Dewatering and Shoreline Control
Erosion Control Fencing

If you have questions about products, give us a call at 1-772-646-0597 or request a price quote.
Erosion and Sediment Control Products
Choosing the right silt and erosion sediment control product for your location is often dependant on your project, site conditions, and on site requirements. Please feel free to view the information below to find out more about our products and how they can be used on your site.
Biodegradable Erosion Control Products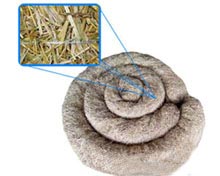 Biodegradable Erosion Control Products are a favorite for both job sites and restoration areas. As a completely natural solution, these products require limited maintenance and are able to biodegrade and enrich the surrounding areas. Available options include the following:
Interior: Coir or Straw
Outer Netting Material: Coir Twine
Facts: Less Densely Packed than Coir Logs
Uses: Streams, Check Dams, Drains, Inlets, or Construction Sites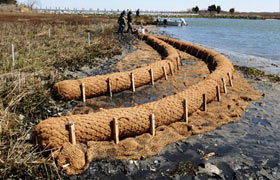 Erosion Control Logs:
Interior Fabric: Coir Fibers
Exterior Netting: Coir Twine
Densely Packed Logs
Uses: Hills, River Banks, Streams, Lake Shores, Construction Sites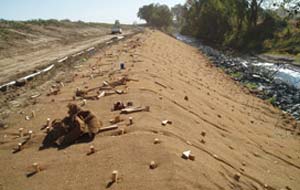 Erosion Control Mats:
Materials: Coir, Straw, or Wood Fiber
Stabilize Locations until Vegetation can take Root
Biodegrade over Time
Uses: Hills, Banks, Shorelines
Biodegradable erosion sediment control products are typically used for either perimeter control, filtration or sediment containment around your facility. Often used in front of drains or along banks and hills, these products can provide effective stabilization without creating long-lasting maintenance or disposal requirements.
Do you have questions about coir? Visit the Coir Products FAQ.
Dewatering Products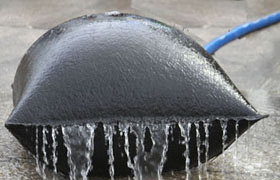 Synthetic materials, such as dewatering bags or silt fencing, are commonly used for areas with higher demands or increased sediment storage requirements.
Sediment Filter Bags:
The sediment filter bag is frequently used around construction sites, collection ponds, or dredging areas to filter water or runoff. Bags can be made in compact sizing or in large dewatering tubes depending on the requirements of your location.
Erosion Control Fencing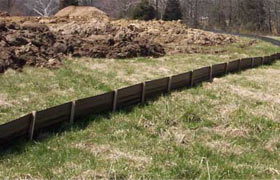 The erosion control silt fence is one of the most commonly used options for retaining sediment and controlling silt in your location. Typical options include the following:
Want to build your own erosion control wall with bags? Check the Bulk Bags page.
Other Product Categories
Questions? We can help! Call our team at 1-772-646-0597 or fill out our quote request form to discuss your requirements.