Erosion Control Fabric
Coir Logs, Coir Mats, and Geotextiles
Questions? Call Us Now!
---
Erosion Control Fabric Menu
Request Quote & Info:
---
Erosion Control Fabric in many sizes and styles, from cloth, logs, wattle, mats, blankes and more. Affordable prices and delivered to you too. Erosion control fabrics help successfully filter runoff, control erosion, and stabilize slopes in your area. Made in both synthetic and biodegradable options, these fabrics are able to control sediment in your location and prevent further erosion. Erosion Control Fabrics featured here have been used in a wide range of applications including slope stabilization, sediment containment, runoff filtration, home protection, and vegetative regrowth.
Our friendly staff is here to help you get the exact product you need!.


Soil Reinforcement Geotextiles and Coir Materials
Regardless of your location, each soil reinforcement mat is equipped to provide support, stabilization, and reinforcement for your area. Depending on your conditions, sites may also require a filtration component to help maintain a clear water flow from your site. Filtration products can include wattles, geo filter fabrics, and logs to handle increased flows from your site.
Geotextiles for Soil Reinforcement
Some of the most common options for soil reinforcement include our variety of Woven Geotextiles. Geotextiles found here can include geotextiles for both uniaxial and biaxial reinforcement:
Uniaxial

Biaxial

Geotextile 4 x 1
Geotextile 6 x 1
Geotextile 9 x 1

Geotextile 2 x 2
Geotextile 3 x 3
Geotextile 4 x 4
Geotextile 4 x 6
These geotextiles are a frequent choice for applications involving stabilization along a slope or specific area. When compared to something like the coir erosion control mats, these geotextiles can offer more of a long-term stabilization and separation solution to erosion control issues.
Biodegradable Erosion Control Fabric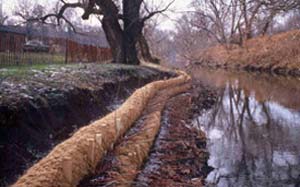 Biodegradable erosion control products are often used in locations where natural habitats, vegetation, or wildlife is present. Rather than using plastics or polypropylenes, these products feature all-natural components that will biodegrade on their own over extended periods of time. This not only protects surrounding areas, but also decreases maintenance requirements as the product will biodegrade on its own.
Coir Erosion Control Mats: Varying in weight for slopes up to 1:1 and water flows up to 17 fps.
Sediment Control Products: We also offer a couple of different natural fiber product options that can help with different slope stabilization applications. These include:


Coir Logs
Coir and Straw Wattles
Biodegradable Landscape Stakes and Staples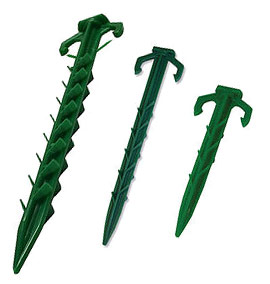 Any time you are using biodegradable or synthetic erosion control fabric, having a product to secure the mats to the ground is often essential to proper installation of your material. In addition to wood stakes and sod staples, we also offer Biodegradable Landscape Stakes. These items are made from a biodegradable material that will break down over time. All remaining particles are safe for the environment and do not require removal.
Other Product Categories
See what other customers are asking about these products:
Questions about Erosion Control Fabric? We can help! Call our sales team at 1-863-261-8388 or fill out our quote request form to discuss your requirements.
---
© Copyright Erosion Control Products 2023. All rights reserved.
Erosion Control Products is a global solutions provider offering our product solutions to the following states, countries, territories and provinces:

States:

Alabama, AL | Alaska, AK | Arizona, AZ | Arkansas, AR | California, CA | Colorado, CO | Connecticut, CT | Delaware, DE | Florida, FL | Georgia, GA | Hawaii, HI | Idaho, ID | Illinois, IL | Indiana, IN | Iowa, IA | Kansas, KS | Kentucky, KY | Louisiana, LA | Maine, ME | Maryland, MD | Massachusetts, MA | Michigan, MI | Minnesota, MN | Mississippi, MS | Missouri, MO | Montana, MT | Nebraska, NE | Nevada, NV | New Hampshire, NH | New Jersey, NJ | New Mexico, NM | New York, NY | North Carolina, NC | North Dakota, ND | Ohio, OH | Oklahoma, OK | Oregon, OR | Pennsylvania, PA | Rhode Island, RI | South Carolina, SC | South Dakota, SD | Tennessee, TN | Texas, TX | Utah, UT | Vermont, VT | Virginia, VA | Washington, WA | West Virginia, WV | Wisconsin, WI | Wyoming, WY

Countries, Territories and Provinces:

Malaysia, MY | Indonesia, ID | Antigua and Barbuda, AG | Bahamas, BS | Barbados, BB | Belize, BZ | British Virgin Islands, VG | Cayman Islands, KY | Dominican Republic, DO | Grenada, GD | Haiti, HT | Jamaica, JM | Montserrat, MS | Puerto Rico, PR | Saint Lucia, LC | Saint Vincent and the Grenadines, VC | Trinidad and Tobago, TT | Turks and Caicos Islands, TC | United States, US | US Virgin Islands, VI | Mexico, MX | Campeche, CM | Quintana Roo, QR | Yucatan, YU | Central and South America | Canada, CA | Alberta, AB | British Columbia, BC | Manitoba, MB | New Brunswick, NB | Newfoundland and Labrador, NL | Northwest Territories, NT | Nova Scotia, NS | Nunavut, NU | Ontario, ON | Prince Edward Island, PE | Quebec, QC | Saskatchewan, SK | Yukon, YT