Home Flood Protection Barriers
Home Flood Protection Products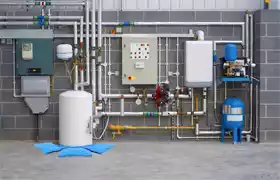 Floods can strike at anytime, but it is possible to be prepared for when they do. Having home flood protection barriers like Ultra Aqua Flood Bags on hand will give you peace of mind in knowing that you can quickly react to protect your home or business from damage in an emergency. These Sandless Sandbags are perfect for having on hand—for unexpected flood emergencies--or to prepare for storm surge when hurricane flood water threatens. Commercial or larger scale flood preparedness tools include sandbags, flood bulk bags, and sandbagger machines, but our flood bags are a much more economical and practical solution for most homeowners (see video below).
Our friendly staff is here to help you get the exact product you need!.


How to Prepare for a Flood in Your Home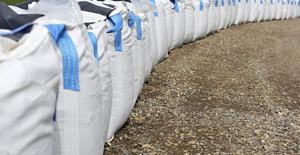 The first step in flood preparation is knowing where the vulnerable places in your home or business are. For weather related emergencies, you should always have an evacuation plan in mind. Floods can occur from outside weather related occurrences, or even just within your home for a variety of reasons. For small floods that are more of a nuisance and are costly to handle, you should make sure you have the right tools ahead of when a flood happens.
Flooding that occurs within your home is typically caused by hot water heaters, toilets, washing machines, overflowing sinks, dishwashers, and burst pipes. You don't want to be faced with a leak and have no way to quarantine the water. If you wait to deal with these as they occur, you find yourself scrambling and ill prepared. But when you have the right tools, like, an inflatable flood barrier, you'll breathe a sigh of relief as the flood water is controlled and not spilling through your home.

Flood defense with a DIY flood barrier for your home makes it easy to respond quickly to unexpected leaks. For more information on flood preparedness, keep reading, or give our sales team a call at 1-863-261-8388.
Inflatable Flood Barriers for House Exterior
Having inflatable flood barriers for your house will mean having the right tools on hand to deal with unexpected floods also. Sandless sandbags are made from nonwoven, hydrophilic fabric that covers four layers of a superabsorbent polymer that can absorb up to 90 percent capacity. Stack them to form a protective wall to keep rising floodwaters away from your property. (See our video for how quickly and easily the aqua bags are to use!)
30 to 40 pounds of stopping weight when activated
Four layers of super absorbent polymer
Fast Acting, Consistent Results
Easy to Activate and Use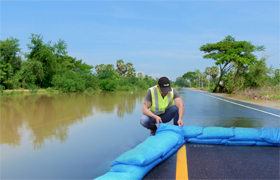 Flood Preparedness
Flood preparedness means having the tools you need to successfully keep leaks at bay until you can deal with the excess of water. When leaks happen, you often only have minutes to react to them. Luckily for you, the sandless sandbags only take 5 minutes to inflate and go from weighing less than one pound to 30 to 40 pounds, giving you superior flood stopping weight. All you need to activate these sandless sandbags is water. Submerge the sandless sandbags in water for five minutes and water them go.
Solutions to flood safety need to be consistent and reliable. Sandless sandbags keep their shape when activated and don't slump to one side. When stacked correctly, they can provide you with the solutions to flooding you've been dreaming of.

For more information on other home flood protection barriers and how we can help you, give our sales team a call at
1-863-261-8388.
Other Product Categories
© Copyright Erosion Control Products 2023. All rights reserved.