Reusable Dewatering Bags
Economical Ultratech Dewatering Bag
Reusable dewatering bag are an economical approach to dewatering projects. While standard dewatering bags for sediment or for sediment and oil are convenient because of their disposable nature, Ultratech's reusable dewatering bags allow for multiple uses, which can save you money for jobsite that have many dewatering and erosion sediment control needs. For extra costing savings on large jobs, you can't go wrong with a reusable dewatering bag. Call us at 1-863-261-8388 for more information. See our exclusive unboxing video for the reusable dewatering bag.
Our friendly staff is here to help you get the exact product you need!.


Reusable Dewatering Bag Features
Key features of the reusable Ultratech dewatering bag are the large openings that allow for ease of access when removing trapped sediment. Sediment dewatering bag openings are 3' or 5' depending on the size of the dewatering bag. Reusable filter bags for dewatering will work with hoses up to 6 inches. The galvanized steel locking rods install quickly to support the Ultra dewatering bag opening for removal of collected sediment.
Some reusable dewatering bag features:
Fitted for discharge hoses of up to 6 inches
Galvanized steel locking rods to secure opening
Reuse dewatering bags multiple times
Reusable Ultratech Dewatering Bag Benefits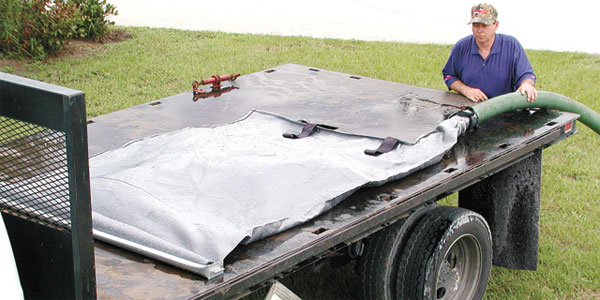 For dewatering projects with tight budgets, the reusable dewatering bags from Ultratech are an economical solution. Instead of having a one-use dewatering bag that must be disposed of, you can remove the sediment from a reusable dewatering bag and use it again. This saves money in long run, keeping you from repurchasing needed dewatering solutions to keep you in compliance. Other benefits include this sediment dewatering bag's reliable performance and robust durability.
Some reusable dewatering bag benefits:
Helps with compliance of NPDES, 40 CFR 122.26 and TMDL requirements
Durable performance with robust Nonwoven Geotextile Material
Reuse multiple times for economical dewatering to keep tight budgets
Do you have more questions about the reusable Ultra dewatering bag? Give us a call at 1-863-261-8388 for more information.
Ultratech Reusable Dewatering Bag Specifications
| Ultratech Part # | Description | Dimensions ft. (mm) | Weight lbs. (kg)) |
| --- | --- | --- | --- |
| Ultratech 9735 | Locking Rods only | - | 13.0 (6.0) |
| Ultratech 9736 | Replacement Bag | 3 x 5 (915 x 1,524) | 4.0 (2.0) |
| Ultratech 9738 | Replacement Bag | 5 x 7 (1,524 x 2,134) | 6.0 (3.0) |
Custom sizing for the dewatering bags is also available, so please do not hesitate to ask.
Reusable Filter Bags for Dewatering and Other Applications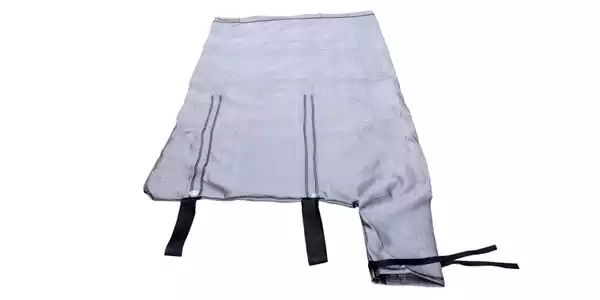 Ultratech dewatering bags can be used in a variety of applications. From construction sites to dredging operations, determining which dewatering product you need will be extremely important. Consider the water flow rates, volume of liquid, and the type of sediment or material needing to be contained to figure out what dewatering product is best for you. Reusable filter bags for dewatering are best for dewatering projects that are on a tight budget. For large dewatering projects that have multiple runoff sites, consider using a reusable dewatering bag to cut down on costs.
Reusable Dewatering Bag Applications:
Removing sediment in small ponds
Waste water treatment plant operations
Lagoon sludge dewatering
Construction site runoff
Have a question about an application for reusable filter bags for dewatering? We can help! Call our team at 1-863-261-8388 or fill out our quote request form to discuss your requirements.