Straw Wattles
Fiber Rolls for Erosion Control and Filtration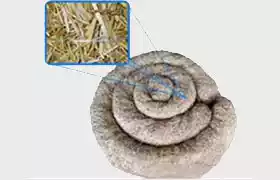 Straw wattles in a variety of sizes and blends, at bulk prices, shipped to you. Straw wattle is an excellent way to control sediment, erosion, and storm water runoff. Available in 9", 12", or 20" diameters, our straw fiber rolls effectively filter out sediment while still allowing water to flow into a storm drain. Typical construction of erosion control wattles includes an exterior PP netting and an interior netting made from 100% wheat straw.
Our friendly staff is here to help you get the exact product you need!.


Straw Wattle Features




Standard Diameters: 9", 12", or 20"
Interiors: 100% Wheat Straw
Exterior: Synthetic PP Netting

Straw Wattle Benefits




Ideal for Filtration
All Natural and Biodegradable Materials
Effectively Allows Water to Flow through the Wattle
Can be Cut and Joined Together
Staked into Place During Use
Removes the Need for Clean Up
Natural Materials Prevents Hard to Wildlife
Perfect for Storm Drains or Inlets
Applications for Straw Wattles
Inlet Protection
Drain Protection
Perimeter Erosion Control
Stream Stabilization

Bank Stabilization
Construction Site BMPs
Slope or Channel Erosion Control
Straw Wattle Specifications
Wattle Type
9" Wattle
Model 1
9" Wattle
Model 2
12" Wattle
Model 1
12" Wattle
Model 2
20" Wattle
Diameter
9"
9"
12"
12"
20"
Length
10'
25'
10'
20'
10'
Density
2 lbs./lf
2 lbs./lf
3 lbs./lf
3 lbs./lf
5 lbs./lf
Filling
Wheat Straw
Wheat Straw
Wheat Straw
Wheat Straw
Wheat Straw
Netting
Synthetic PP
Synthetic PP
Synthetic PP
Synthetic PP
Synthetic PP
Skid Quantities
42
14
20
10
14
Installation of Straw Wattles
Installation for the straw wattles typically involves the following procedures:
Dig a small trench for the erosion control wattles (typically 2" to 5" in size).
Place straw wattles in the trench and backfill with soil.
Secure the straw wattles with stakes.

Customers Who Viewed This Product Also Viewed


Dewatering Bags
Erosion Control:
Coir Wattles
Construction BMPs
Questions about a straw wattle? We can help! Call our team at 1-863-261-8388 or fill out our quote request form to discuss your requirements.