Regrowth of Grass
Erosion Control in Espanola, New Mexico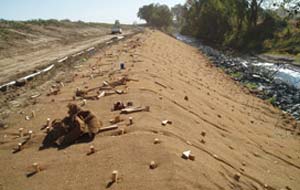 Question: I am looking for a product that can help me with regrowth of grass for erosion control. I have extremely sandy soil and I need some erosion control mats to encourage the grass to grow. I also have 2 dogs that will be running over it. What would be the best way to get this grass to grow and what product can I use to do it? I want to put soil amendments and seed under it.
Answer: Thank you for contacting us! There are several products you could use to help facilitate regrowth of grass for erosion control in your area. One of the products we would recommend is something like the Coir 70 Erosion Control Mat. This mat has an open weave that would allow for seeding before and after the mat has been installed.
If you have questions about any products give us a call at +1-772-646-0597 or request a price quote.
There are several beneficial features of using erosion control matting including:
100% Biodegradable
Capable of Reseeding after Installation
Lasts 4 to 6 years
Environmentally Friendly
Blends in Naturally to Surroundings

This coir erosion control matting can be particular effective in your area as it will allow your grass plenty of time to grow before it biodegrades. It also has wide open weave areas so you can constantly plant and reseed to help vegetation grow.
Given your situation with dogs running around and a difficult growth area, we would recommend doing small sections at a time.
Place mat with seeding and grass in a small section of your land.
Keep this area enclosed to prevent dogs from running over it.
Allow the area to remain enclosed until the grass has had time to grow.
Once growth is established, move on to a new area.
To see more options for coir erosion control, please check out our full variety of Erosion Control Matting.
If you have questions about products, give us a call at +1-772-646-0597 or request a price quote.