Non Woven Geotextile Fabric
3.5 oz. Non Woven Geotextile
Non woven geotextile fabric is used for filtration, soil stabilization, keeping erosion under control, and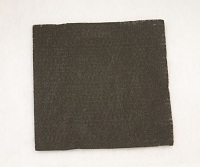 strengthening under rip rap. The synthetic geotextiles are more cost effective and last longer than organic geotextile, such are coir and straw. The 3.5 oz is slightly thicker than the 3.1 oz non woven geotextile fabric, so it filters more with the same flow rate.
These geotextiles are made with needle punched polypropylene. They have a grab tensilestrength of 90 pounds, making the 3.5 oz ten pounds stronger. This allows it holds back an extra amount of erosion tham the 3.1 oz. For an even stronger hold on erosion, non woven geotextiles come in sizes up to 16oz per square yard, with a tensile strength up to 425 lbs.
Features:
Fabric: Non Woven Needle Punctured Polypropylene
Grab Tensile Strength: 90 lbs
Roll Sizes: 12.5' x 360' and 15' x 360'
Roll Weight: 130-155 lbs
Water Flow Rate: 150 gpm/ft2
Benefits:
Cost Effective Erosion Control Solution
Naturally Holds up to UV Rays and Chemical Exposure
Light Weight Fabric Design
Fast and Effective Filtration
Rot Resistant
Typical Applications:
Separation
Soil Stabilization
Pipe and Drain Wrapping
Erosion Control
Vegetation Growth
Bank Reinforcement
If you have questions about products, give us a call at +1-772-646-0597 or request a price quote.
3.5 Non Woven Geotextile
Technical Specifications

Property
Link
Flyers
Product Flyer (pdf)
Installation
Installation (pdf)

Property

Test Method

Unit

Minimum Average
Roll Value (M.A.R.V.)

Weight (typical)
ASTM D5261
oz/yd² (g/m²)
3.5 (119)
Grab Tensile
ASTM D4632
lbs (kN)
90 lbs (.401)
Trapezoid Tear Strength
ASTM D4632
lbs (kN)
40 (.178)
Grab Elongation
ASTM D4632
%
50
Permittivity*
ASTM D4491
sec-1
2
Water Flow*
ASTM D4491
gpm/ft² (l/min/m²)
150 (6095)
A.O.S*
ASTM D4491
U.S. Sieve
50 (.30 mm)
UV Resistance
ASTM D4355
%/hrs
70/500
3.5 oz. Geotextile Sizes

Roll Size
Total Area
12.5' W x 360' L
4500 SF/roll
15' W x 360' L
5400 SF/roll
Request Pricing
| | | |
| --- | --- | --- |
| | For geotextile securement accessories, please call us at 1-772-646-0597! | |

Non woven geotextile fabric is great for light soil separation, projects requiring flexibility, filtration, and drainage. For areas requiring higher strength stabilization, we do also offer a woven geotextiles. These have increased weight, higher grab tensile strength and a more rigid fabric structure. For more options regarding these geotextiles, check out our Woven Geotextile Variety.
If you have questions about products, give us a call at +1-772-646-0597 or request a price quote.