Current Page
---
Staked Silt Control Fence
Impermeable Staked Silt Barriers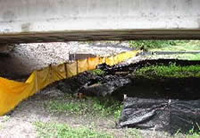 The Impermeable Staked Silt Control Fence is a robust option for any site dealing with significant sheet flow, runoff or site discharge. Great for any site dealing working with water shallower than thirty inches (30"), this fencing can add the strength required for demanding runoff or contaminated water flows.
Standard staked fencing uses an impermeable PVC fabric that is high in resistance and robust enough to withstand use in demanding locations. For standard woven fencing, check out our Erosion Silt Control Fence.
Features:
Material: 18 oz. Impermeable PVC
Stakes (not included)
44.5" High Rolls
100' Roll Lengths
Optional Fasteners: Wire, Hog Rings, Staples
Benefits:
Impermeable Fabric Material
Increased Strength for Demanding Locations
Equipped to Handle Sheet Flow and Runoff
Easy Installation and Set Up
Redirects Flows Around your Site


Staked Silt Barrier
Technical Specifications

Silt Fence Type

Length

Fabric

Staked Silt Barrier

44.5"

100'

13 oz., 18 oz., or 22 oz. PV Fabric
Staked Silt Control Fence
Installation & Maintenance
The Staked Silt Barrier is installed in method similar to the silt fence and will typically involve the use of 1" x 1" wooden stakes. If stakes are not appropriate/available, rebar or other similar materials can be used to effectively install the barrier. Typical installation for the fencing is as follows:
Dig a trench along the desired control path.
Install 1" x 1" stakes on the down slope of the trench.
Unroll the staked silt barrier fabric.
Fasten the fabric to the fencing.
Once the fencing has been installed, backfill the trench

Maintenance
As with any silt fence or BMP, fencing should be inspected periodically on a maintenance schedule and after each rain fall event. Fencing should be inspected for any gaps or tears in the material.
Questions? We can help! Call our team at +1-772-646-0597 or fill out our quote request form to discuss your requirements.
---