Staked Turbidity Barrier
Impermeable Staked Turbidity Barriers for Sale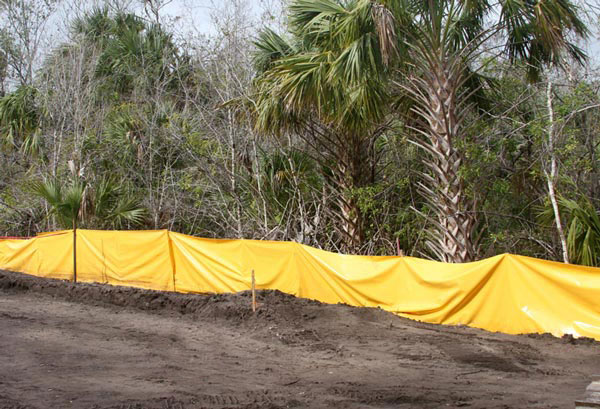 Impermeable Staked Turbidity Barriers (also called staked silt barrier) is a robust option that meets US DOT and FDOT requirements and is a widely accepted stormater BMP. Use it for construction sites with significant sheet flow, stormwater runoff, sediment erosion, or site discharge. It's also widely used in ditches, swales, swampy areas, and shallow sites with water depths less than 18". This fencing can add the strength required for demanding runoff control or contaminated water flows. It can also redirect stormwater to help avoid flooding.
Staked Silt Barrier uses an impermeable PVC fabric that is high in resistance and strong enough to withstand use in demanding locations. It is DOT compliant for use as a stormwater Best Management Practice (BMP).
AVAILABLE SIZES FOR STAKED BARRIERS - 18OZ YELLOW VINYL
48" X 100' NO STAKES
PACK OF 9 STAKES, OR PACK of 17 STAKES
48" X 100' PRE- STAKED
48" X 100' PRE-STAKED WITH LATTICE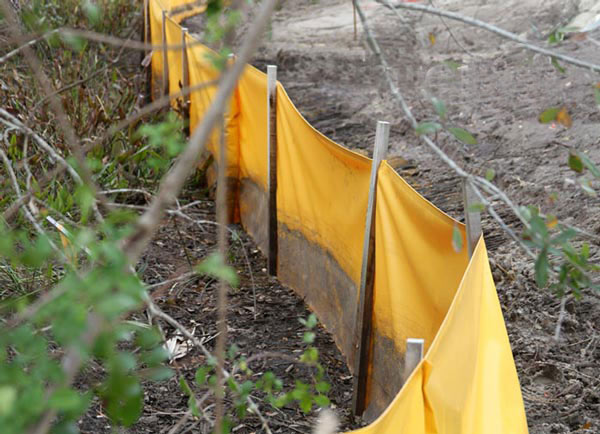 Staked Silt Control Fence Benefits:
Impermeable Fabric Material
Increased Strength for Demanding Locations
Equipped to Handle Sheet Flow and Runoff
Easy Installation and Set Up
Redirect Stormwater Flows Around your Site




Staked Silt Barrier - Technical Specifications
Fabric
16 mil nominal laminated vinyl/polyester
(PVC) .
Height
48 inches
Length
100 feet
Construction
vinyl laminate on 18 x 17
1000 x 1300 denier scrim
Weight
16 mil nominal per sq. yd.
Adhesion
10 x 10 lb./in
Grab Tensile
410 x 410 lb
Tongue Tear
100 x 100 lb
Hydrostatic
at least 600 lb. psi.
Color
Safety Yellow
Other Fastener Options
Wire, Hog Rings, Staples
Staked Silt Control Fence - Easy Installation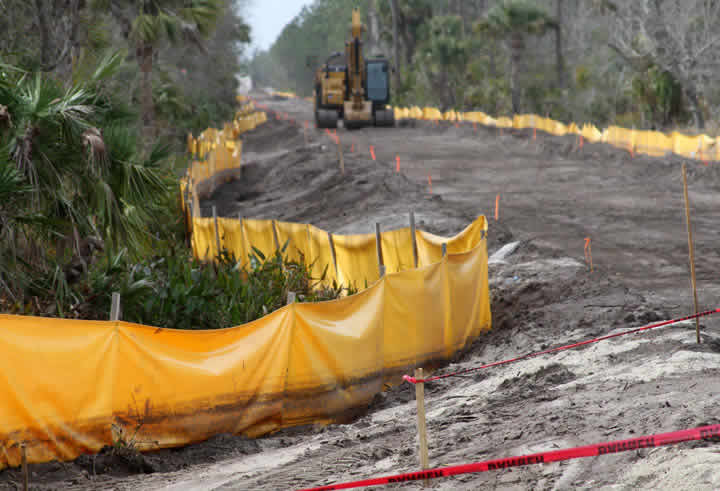 Staked Silt Barrier can be quickly and easily installed. The installation method is similar to that of black permeable (geo) silt fence. For standard black woven silt fencing information, see Erosion Silt Control Fence. Typical installation for the yellow PVC fencing is as follows (for UNSTAKED FENCING):
Dig a trench along the desired control path.
Install 1" x 1" wooden stakes (or rebar) on the down slope of the trench.
Unroll the staked silt barrier fabric.
Fasten the fabric to the fencing.
Once the fencing has been installed, backfill the trench.
Note: Save time for your work crew by getting the PRE-STAKED fencing. It's fast and easy to install - saves so much time on the job. For long term jobs, consider the PRE-STAKED fencing with lattice for an extented use-life of the fence.
Silt Control Fence Maintenance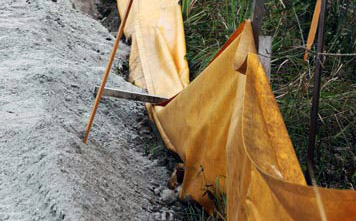 As with any silt fence or BMP, fencing should be inspected periodically on a maintenance schedule and after each rain fall event. Staked Silt Barriers should be inspected for any gaps or tears in the material. Also, remember to remove any accumulated sediment. Readjust and reposition stakes that may have fallen or moved. A well-maintained staked silt control fence can make a big difference in sheetflow and runoff control effectiveness.
Permeable Silt Control Fence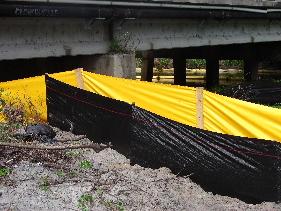 For additional stormwater and sheetflow runoff filtration, couple the use of Staked Silt Barrier with black permeable silt fence. Erosion Control Products works offers several styles of geotextile (permeable) silt fence to accomodate your project's needs.
For answers to your Staked Silt Barrier questions, call Erosion Control Products at 1-863-261-8388
or fill out our quote request form to discuss your project's needs.