Soil Erosion Control Products
High Performance Turf Reinforcement Mats


Soil erosion control products like high performance turf reinforcement mats (HPTRMs) are one of the strongest available options for soil

erosion control and reinforcement in your location. Offering long term control for demanding areas, these mats provide the strength and stability necessary for extreme conditions.
These soil erosion control products are constructed from a high strength woven polypropylene monofilament fiber that allows them to withstand the demands of various climates. All fibers are woven into a three-dimensional pyramid matrix that facilitates growth and soil stabilization. Turf reinforcement mats are one of the strongest available woven geotextiles and soil erosion control products that are often used with steep slopes, waterways, and arid climates.
Our friendly staff is here to help you get the exact product you need!.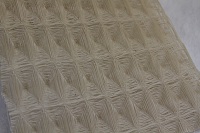 Turf Reinforcement Mats Features
Composition: Woven Polypropylene Fibers
Design: Pyramid Type Matrix
GAI-LAP Testing
UV Stabilizaed Materials
Shrinked Wrapped Rolls
Turf Reinforcement Mats Benefits
High Reinforcement and Interlock Capacity
Works Well in Arid/Semi-Arid Conditions
High Strength TRM
Superior UV Resistant
Enhances Seedling Growth

Typical Erosion Control Applications
Steep Slopes
Vegetated Waterways
Channels
Banks
Pipe Inlet/Outlet
HPTRM Spec Sheets Technical Specifications

Product Flyers

7 oz. HPTRM

12.5 oz. HPTRM

Test Property

Test Method

MARV Value

MARV Value

Mass/Unit Area

ASTM D-6566

7 oz/sq yard

12.5 oz/sq yard

(Physical)

Thickness

ASTM D-6525

0.25 in

0.35 in

Light Penetration

ASTM D-6567

20%

20%

(Mechanical)

50%

Resiliency

ASTM D-6524

70%

85%

Tensile Strength

ASTM D-6818

2000 x 1800 lbs/ft

4000 x 3000 lbs/ft

Elongation

ASTM D-6818

40x40%

30x30%

(Performance)

Velocity (Vegetated)

ASK

ASK

Shear Stress (Vegetated)

ASK

ASK

Roll Size

8.5'x106'
(Custom sizes upon request)

8.5'x106'
(Custom sizes upon request)


*Custom widths and lengths also available.

Additional Product Information:
Questions? We can help! Call our team at 1-863-261-8388 or fill out our quote request form to discuss your requirements.