Stake and Staple Installers
Staple Installation Tools for Efficient and Effective Installs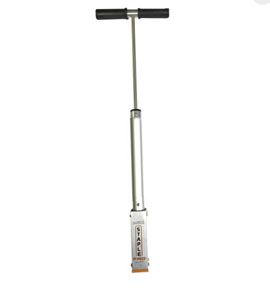 Keeping in place your mats, blankets, wiring, or lines is an important aspects of a landscaping, erosion control, or construction job. With the staple installation tool offered by Erosion Control Products, you can finish your installation job faster with better quality and more effective results. The single-load, jam-free system installs 11 gauge steel staples or biodegradable stakes every 3-5 seconds.
Workers are quicker, less fatigued, and more productive, since there is no inefficient hammering or squatting involved. A better quality job site is left behind with properly installed staples.
Available in orders of 6 units or more, every worker can have a staple installation tool to keep the job moving along quickly and smoothly. Having multiple units also means separate job sites can use them simultaneously.
Our friendly staff is here to help you get the exact product you need!.


Staple Driver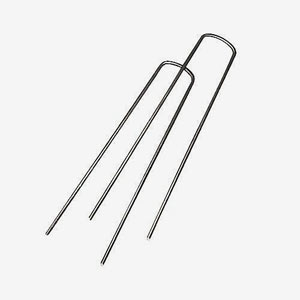 The original staple installers use 4", 6", or 8" U-shaped, 11 gauge standard steel staples, which are also available from Erosion Control Products. Since this is an all-in-one staple installation tool, no hammers are needed, even when stapling into frozen ground. These staple installers are durable and long-lasting, ready to go for multiple seasons.
Stake Driver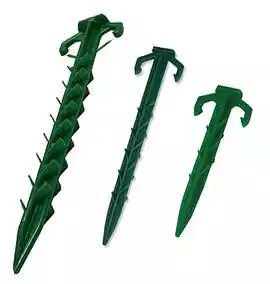 The stake installer works specifically with 4" and 6" biodegradable stakes available through Erosion Control Products. This is particular useful during a coir or straw mat installation project, since the stakes can stay in the ground, helping to feed the soil as they disintegrate over time. Any spacious farms or agricultural companies that regularly use natural mats or blankets on their acreage will want stake installers for their field workers.
Line Driver
This staple installation tool is custom designed to fit over lines, small diameter hoses, or wires, so the steel anchoring pins leave enough room for the line to work properly while staying in place. It allows for easy adjustment of the lines without bending over and manually pushing them around, giving a level of precision not always found with other tools. It could even be used to install holiday lights around your company's building.
Staple Installer Applications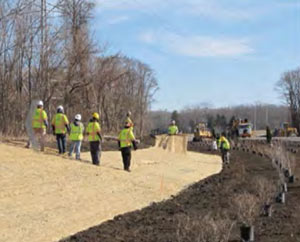 The staple installers offered by Erosion Control Products can be used for a number of large scale projects during any season of the year. Whether you're an expansive agricultural company or have widespread construction sites, each one of your workers can use a staple installation tool for their steel anchoring pins. Just a few of their varied uses include:
Coir Mat Installation
Wire Anchoring
Straw Mat Installation
Adjusting and Anchoring Irrigation Lines
Low Voltage Wiring Installation
Keeping Landscape Fabrics in Place
Pinning Down Erosion Control Netting
Looking to start a straw or coir mat installation project? View all our Coir Mat options!
Questions about staple installers? We can help! Call the Erosion Control Products team at 1-863-261-8388 or fill out our quote request form to discuss your requirements.