Passive Oil Skimmer
Ultra-Archaea Oil Eating Microbes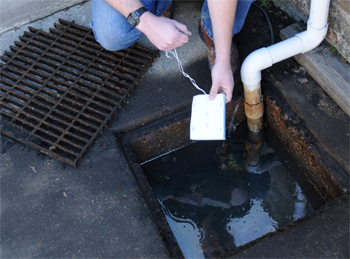 The passive oil skimmer from Ultratech is part of the line of Ultra-Archaea products that consist of oil eating microbes. Ultra-Archaea are hydrocarbon eating microbes and are a 100% natural way to help the bioremediation process. For this reason, they are considered the recommended way to clean up oil spills after they occur. The Ultra-Archaea Boom is a passive skimmer, often attached to the bottom of storm drain grate filters, designed to protect storm drains, tanks, sumps, or catch basins from oil and other hydrocarbon contamination. Stormwater catch basin inserts are designed for high absorbency and strategic conformance with NPDES and SWPPP requirements.
Our friendly staff is here to help you get the exact product you need!.


The Ultra-Archaea Oil Boom is intended for catch basin protection anywhere hydrocarbons could contaminate stormwater drains, including:
Construction Sites
Industrial Sites
Fuel Station Lots

Parking Lots
Mechanic Shops
Ultra-Archaea Products Specifications
| Part Number | Model | Dimensions | Quantity |
| --- | --- | --- | --- |
| Ultratech 5238 | Shakers | .5 (.2) | 1 Shaker |
| Ultratech 5239 | Shakers | 2 (.9) | 1 Shaker |
| Ultratech 5232 | Water Soluble Packets (6 per box) | 1 (.5) | 1 Box of 6 Packets |
| Ultratech 5233 | Bulk Bag | 25 (11.3) | 1 Bag |
| Ultratech 5234 | Mini Boom, 6-Pack | 2 (.9) | 1 Box of 6 Booms |
| Ultratech 5257 | Bulk Bag - 90-billion, Sugar | 25 lbs (11kg) | 1 Box of 6 Booms |
| Ultratech 5252 | 12-pack | 1.5 lbs (0.7 kg) | 12-Pack (24 Tablets per Pack) |
Keep reading for even more Ultra-Archaea application information.In addition to the passive oil skimmer Ultra-Archaea Boom, we also carry other Ultra-Archaea hydrocarbon eating microbe products in a variety of other forms. We have Ultra-Archaea tablets, bulk bags, water soluble packets, and shakers available for purchase. These can be used for stormwater management filtration to speed up the bioremediation process in a non-toxic, natural way. The hydrocarbon eating microbes break down oil molecules into the byproducts of carbon, carbon dioxide, and lipids. This process will take place over weeks or days, depending on the remediation needs, as opposed to the months or years that it could take if left untreated.
Passive Oil Skimmer Features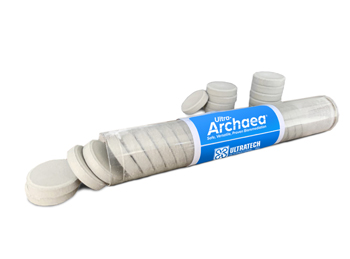 The Ultra-Archaea Oil Boom is made with specially-treated polyethylene foam that allows it to float on the water's surface while it absorbs oil. Microbe tablets are inserted into the slits of the foam sleeves. Once in the water, the tablets will slowly dissolve, releasing the microbes into the water. The boom's dimensions are 6" x 4" x 1" (152mm x 102mm x 25mm). The Ultra-Archaea Boom can be dropped in or tied off in catch basins with an included lanyard.
When ready to replace, the catch basin inserts are just one pull of the tether away from safe disposal into a bucket or container.
Each oil absorbent pillow provides ideal catch basin protection with polypropylene fibers chosen for their ability to act quickly against hydrocarbons.
The design of the storm drain filter skimmer design incorporates polyethylene foam to ensure the BMP 's position floating on the water's surface, also keeping it from blocking any drain. The passive oil skimmer is a strategic, simple solution that complies with NPDES and SWPPP BMP requirements.
Other Ultra-Archaea Products We Carry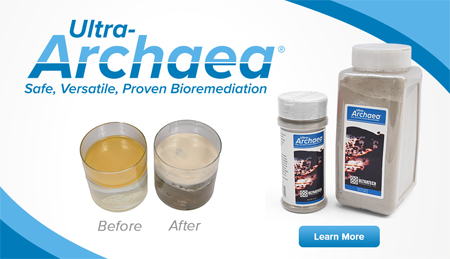 Other Ultra-Archaea products we carry include Ultra-Archaea Shakers which are housed in resealable, waterproof containers to keep the microbes dry and dormant until they are needed. We also carry water soluble packets that can be thrown into oil/water separators, catch basins, grease traps, and other areas to facilitate oil and grease removal. For large spills, you can use the Ultra-Archaea Bulk Bags (25 lbs.) that are used on open water applications and to refill the shakers or other containers of oil eating microbes. Additionally, the highly concentrated Ultra-Archaea tablets are available for purchase and are simple to use. As described above, the tablets are used in the Ultra-Archaea Passive Oil Boom and can also be used to break up, flush, or drain areas.
Ultra-Archaea Product Applications
Safe and effective for use in a variety of locations, we can help you select the Ultra-Archaea product to best fit your needs. These microbes are great for removing hydrocarbons in an non-toxic, non-invasive way, but they can also be used in waste water treatment plants in a variety of ways, from pulp mills, chemical plants, collection systems, and food processing. Plumbing maintenance can also benefit from Ultra-Archaea products for sinks and grease traps. Septic tanks and odor control are other applications. Here's a quick list of other applications:
Spill Control
Soil, Water, Stormwater Bioremediation
Oil/Water Separators, Containment Sumps, Lagoons with Oily Water
RV and Boat Black Water Holding Tanks
Bilges of Boats
Stormwater Oil Separation
The effects of unstopped oil contamination caused by stormwater runoff are critical to our environment, and we are committed to providing products like the passive oil skimmer that allow for both smart and simple.
Questions about the passive oil skimmer? We can help! Call our team at 1-863-261-8388 or fill out our quote request form to discuss your requirements.