Oil SheenSorb Passive Skimmer
The Free-Floating Oil Absorbent Pillow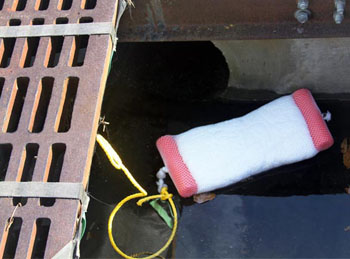 The Oil SheenSorb is a passive skimmer designed to protect storm drains, tanks, sumps, or catch basins from oil and other hydrocarbon contamination. With a maximum capacity of 1 gallon each, these stormwater catch basin inserts are designed for high absorbency and strategic conformance with NPDES and SWPPP requirements.
Questions about stormwater catch basin inserts? We can help! Call our team at 1-863-270-8118 or fill out our quote request form to discuss your requirements.
The OX Oil SheenSorb oil skimmer is intended for catch basin protection anywhere hydrocarbons could contaminate nearby stormwater drains, including:
Construction Sites
Industrial Sites
Fuel Station Lots

Parking Lots
Mechanic Shops
Features of the Oil SheenSorb Passive Skimmer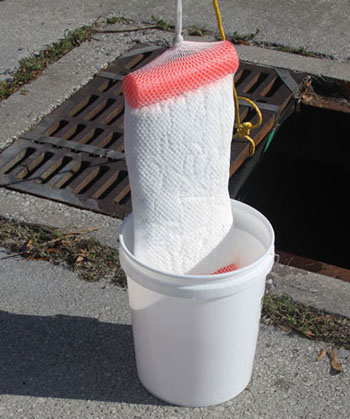 The storm drain filter skimmer arrive fully assembled and ready for installation.
Installation and removal is straightforward: just attach the 6' tether to the grate, place the oil absorbent pillow into the stormwater catch basin, and monitor regularly to ensure optimal absorption.
When ready to replace, the catch basin inserts are just one pull of the tether away from safe disposal into a bucket or container.
Each oil absorbent pillow provides ideal catch basin protection with polypropylene fibers chosen for their ability to act quickly against hydrocarbons.
The design of the storm drain filter skimmer design incorporates polyethylene foam to ensure the BMP 's position floating on the water's surface, also keeping it from blocking any drain.
The Oil SheenSorb passive skimmer is a strategic, simple solution that complies with NPDES and SWPPP BMP requirements.
Passive Skimmer Specifications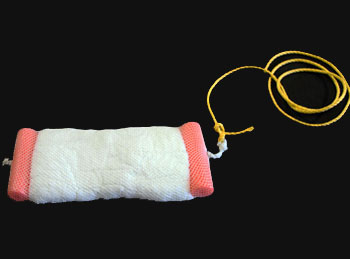 Dimensions: 20" x 9" x 2"
Weight (before installation): 3 lbs.
Capacity: approximately 1 gallon per passive skimmer
Tether length: 6'
Net casting
Red polyethylene floating foam
White polypropylene Absorbent Fibers
Availability: sets of 2 (2-gallon capacity) and 5 (5-gallon capacity) catch basin inserts
We Only Have One Earth!
The effects of unstopped oil contamination caused by stormwater runoff are critical to our environment, and Erosion Control Products is committed to creating products like the Oil SheenSorb passive skimmer that allow for both smart and simple stormwater BMP implementation.
From Over Grate Filters to Under Grate Filters, Erosion Control Products offers several products that serve the same purpose as the Oil SheenSorb: to easily and effectively protect our waters from harmful oils and other hydrocarbons. The ideal SWPPP BMP product depends on the scope and size of the site.
Questions about our oil skimmer? We can help! Call our team at 1-863-270-8118 or fill out our quote request form to discuss your requirements.