Current Page
---
Storm Drain Filter
Working to meet several stormwater filter needs, the storm drain filter is designed to fit in storm drains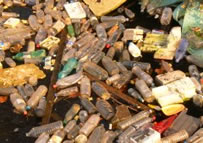 and inlets to collect and filter out materials before then enter a water collection area or system. Realizing that all storm drains are sized differently, in addition to our standard drain guards, we also offer custom drop insert filters to help with any of the following materials:
Debris
Trash Particles
Small Wood Chips
Sediment, Silt and Sand
Plastic Wrappings
Regardless of your storm drain size or filtering requirements, we can make a drop insert filter to meet your needs.
Features:
Custom Filter/Drain Sizes
Geotextile Filter Fabric
Built to Meet your Collection Area
Designed for Sediment and Debris Collection

Choosing a Filter:
In order to provide you with the best custom drain filter for your location, we would need to know some of the following information:
Drain Size Needing Containment
Flow Rates
Items Requiring Containment
Additional Requirements Needed
From here we can work to provide you with the perfect filtration device for your drainage and water collection area. All geotextiles are designed with a filter fabric that works to filter out materials as they are flowing into your drain system. Whether you need to collect sediment, filter out flowing debris, or contain materials, we have a filtering device that can work for your location.

Standard Drain Guards
In addition to our custom drop insert filters, we also offer several standard drain filters to help with sediment and oil filtration. Models include:
Drain Guards
Drop Insert Drain Guards
Inlet Protection Guards
Storm Drain Covers
Downspout Filters
Dewatering Bags and Guards
For more information, check out our Storm Drain Filter and BMP Products.
Questions? We can help! Call our team at +1-772-646-0597 or fill out our quote request form to discuss your requirements.
---