Storm Drain Inlet Protection
Drain Guards and Other Storm Drain Products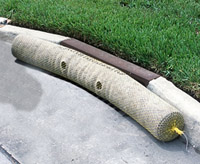 Storm drain inlet protection products at affordable prices and ship to you. Storm drain inlet protection provides added protection to your construction site, job site, or industrial facility. Featuring a combination of biodegradable and synthetic products, these storm drain products sit in front of drains to filter water discharge or runoff before it enters a drain system.
Depending on your site's conditions, requirements may be long term or temporary. Knowing what storm drain inlet filtration products there are will help you determine which are best for your site.
Our friendly staff is here to help you get the exact product you need!.


Storm Drain Inlet Filtration Products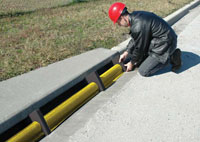 Straw or Coir Wattles
Gutter Logs
Filter Inlet Guards
Spill Berms
Curb Drain Guard
Drain Insert Filters
Biodegradable Inlet Filters and Wattles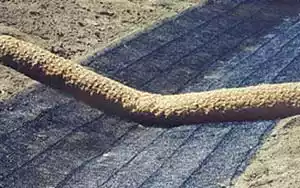 Biodegradable inlet filters are an all-natural way to control water as it flows into a drain system. Made from either straw or coir, these wattles are able to effectively retain sediment and prevent pollutants from entering a water area. Standard wattles feature a diameter of either 6", 9", 12" or 20", depending on their composition.
Erosion Control Wattle Design
Interior Fibers: Coir Fibers or Wheat Straw
Exterior Netting: Biodegradable Jute or Coir
Typically Sold by the Pallet (Roll Quantities Also Available)
Completely Biodegradable Structure
For more information on coir wattles, check out our Erosion Sediment Control Products.
Inlet Filter Sock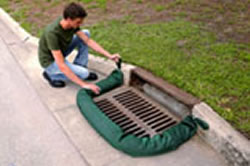 Similar in design, the Filter Sock is a synthetic option used for drains, inlets, and gutters. Filter socks feature a woven polymer exterior and an interior filled with reliable filtration media. Features include:
Dimensions: 108" x 7" x 4"
Exterior: Woven Polymer
Looped Ends
Filtration Media:

Activated Carbon
Sorb 44
Sediment
Phos Filter
Heavy Metal Removal
Ultra Inlet Filter Sock Specs
| Part Number | Description | Dimensions in. (mm) | Weight lbs. (kg) |
| --- | --- | --- | --- |
| 9453 | Activated Carbon | 108 x 7 x 4 (2,743 x 178 x 102) | 40.0 (18.0) |
| 9455 | Sorb 44 | 108 x 7 x 4 (2,743 x 178 x 102) | 15.0 (7.0) |
| 9457 | Sediment Removal | 108 x 7 x 4 (2,743 x 178 x 102) | 40.0 (18.0) |
| 9456 | Phos Filter | 108 x 7 x 4 (2,743 x 178 x 102) | 66.0 (30.0) |
| 9454 | Heavy Metal Removal | 108 x 7 x 4 (2,743 x 178 x 102) | 35.0 (16.0) |
Inlet and Drain Guards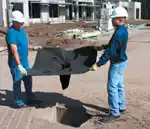 Filter products are often used on the outside of storm drains to help separate out materials as they are flowing into the drain. In addition to this type of storm drain inlet protection, we also offer products that can fit directly into the storm drain itself. These drain guards can often attach to the outside of the drain or to the drain grate. Guards are made from a geotextile material that naturally provides filtering.
Common storm drain inlet protection guard styles include the following:
Catch Basin Insert
Inlet Guard
Drain/Grate Covers
Blocking Seals
Interior Debris Guards
View all our available Storm Drain Guards.
Questions? We can help! Call our team at 1-863-261-8388 or fill out our quote request form to discuss your storm drain inlet protection.