Straw Mat Erosion Control
---
Straw Mat Erosion Control
Question: I am working on a straw mat erosion control project and I am looking for something to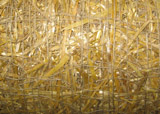 help me regrow vegetation along a stream. What are my options for this type of erosion control?
Answer: For erosion control along small streams or hills, Straw Erosion Control Mats can be an excellent choice. In terms of design, straw blankets will typically come in the following options:
Single Net Straw Blankets
Double Net Straw Blankets
Double net straw blankets will feature a secondary netting layer that helps to increase stabilization and extend erosion control. Double net blankets are perfect for locations with slightly steeper slopes, increased flows or other extended erosion control requirements.

Typical Straw Mat Features:
Woven Netting Materials
Biodegradeable Thread
Lifespan from 3 months to 2 years
Choosing a Straw Mat/Blanket
Choosing a straw blanket can depend on several different factors, including the slope level of banks in your location, water flows and erosion requirements. In order to help determine the best option for your location, we typical look into several conditions including:
Slope Steepness (3:1, 2:1 or 1:1 slopes?)
Dimensions Required (L x W)
Water Flow (fps)
Project Duration (Required Lifespan for the Blankets)
Vegetation (Will any vegetation be placed on or around the blankets?)
Knowing this project information can help us determine the best roll sizes and types required for your location. If you are working off of our drawings or specifications, please do not hesitate to send them through to us (info@graniteenvironmental.com). We are more than happy to work with specifications to match your requirements to the right erosion control product.
Other Erosion Control Matting Options
While straw is an excellent solution for erosion control and vegetative growth, areas with steeper slopes or higher flow levels may also consider using a Coir Erosion Control Mat. Similar to straw, these mats are completely biodegradeable but offer increased strength for high demand areas.
Coir Mat Advantages
Longer Lasting: When coir is implemented in the form of erosion control matting, it can give you a more solid foundation to handle tougher areas or extended use. Some coir mats can last up to 6 years.
Open Weave Design: Coir mats are often stitched together in an open weave design. These leaves small areas for planting vegetation before or after the mat has been installed.
Handles Stronger Conditions: While the straw erosion control mats are great for low flow (max. 6 fps) areas, coir erosion control mats are better for high flow channels or 1:1 slopes.
Questions? We can help! Call our team at +1-772-646-0597 or fill out our quote request form to discuss your requirements.
---