Straw Matting Erosion Control
Erosion Control Straw Mats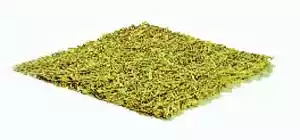 Straw matting erosion control options include a range of straw blankets designed to help with erosion problems in low level slopes, low flows, and other moderate conditions. While their length and strength can vary depending on the type of straw mat you choose, each option is generally equipped to handle conditions with a low flow and/or a 3:1 or 2:1 slope.
Standard model options for our straw blankets include single or double exterior nettings. Double nets are generally higher in strength and can help with areas dealing with a higher slope or flow.
Our friendly staff is here to help you get the exact product you need!.


Straw Matting Design
Similar to our other erosion control materials, the Straw Mat is designed for increased stabilization and support along erosion areas. The general design of these erosion control mats and blankets includes an inner material (straw, straw coco blends, or coir) and outer netting to keep materials in place.
Standard Widths: 8 or 16 feet
Standard Lengths: 112.5 or 562.5 feet
Inner Material Options: Wheat Straw, Aspen Wood, Coir, Coconut Straw Blends
Netting Options: Biodegradable Jute, Photodegradable Polypropylene
Thread: Jute or Split Yarn
Common Questions for Straw Blankets
One of the most common questions concerning these mats include the following:
Do the Erosion Mats Come Pre-Seeded?
Our erosion control mats do not come pre-seeded, but they can be used with vegetation. Seeds are often installed directly through these mats to help establish vegetation on stabilized areas. Erosion control mats are often extremely useful in creating a strengthened soil where plants can have a better chance of taking root.


Where Can the Straw Matting be Used?
Straw matting is most commonly used for temporary or short-term projects (up to 1 year). Depending on the netting material and interior design, mats can be used in either low level or moderate slope locations and flows (up to 2:1).
Choosing Matting Material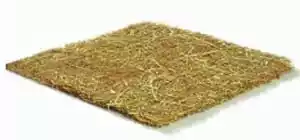 Choosing the right matting or erosion control blanket for your area will depend on several different factors including the following:
Speed/Water Flow in your Area
Duration of Needed Erosion Control
Steepness of Slope
If you require more support than this, there are a couple of different options you could consider. The first would be to use a straw coconut blend. Coconut coir is typically higher in strength and has effectively been used in areas with a steep slope or high flows. Opting for a straw coconut blend can increase the strength of your mat for use in moderate flow or slope areas.
View all our Erosion Control Blankets options.
Questions? We can help! Call our team at 1-863-261-8388 or fill out our quote request form to discuss your requirements.