River Bank Protection with Coir Logs
Shoreline Erosion Control and Bank Stabilization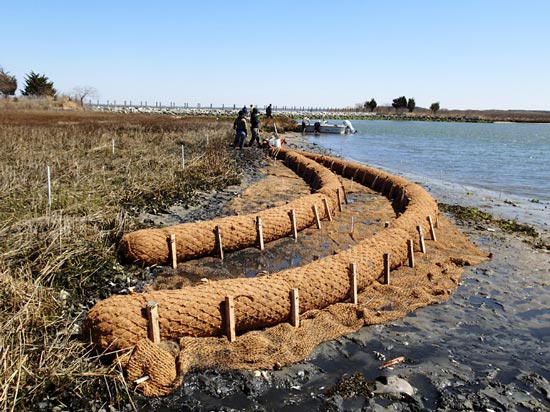 Question: Hello, I am looking for coir logs or some other type of erosion control fabric that I can use for river bank stabilization. I was wondering if this was something that you might have available. Also I was wondering if there was any way to determine the right size log for my project?
Answer: For river bank stabilization, Coir Fiber Logs are a great biodegradable option for natural erosion control. Install these logs along stream or river banks to help create a firm foundation for stabilization and other erosion control applications.
If you have questions about coir fiber logs, give us a call at 1-772-646-0597 or request a price quote.
Determining Coir Log Sizes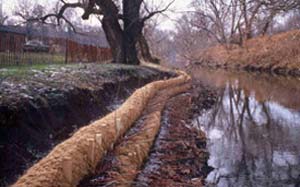 To determine sizing for coir logs, we typically ask customers to consider their application and the type of conditions in which the logs will be used. Some site conditions to consider include:
Slope Size (3:1, 2:1, etc.)
Water Flows (How fast is the water flowing?)
Desired Application (What kind of control are you looking to achieve?)
Duration of the Project
Vegetation Needing to be Planted
Coconut coir logs will typically be 10 or 20 feet in length. The diameter may vary, as well as the anchoring spacing depending on your location.
Additional Shoreline Erosion Control Options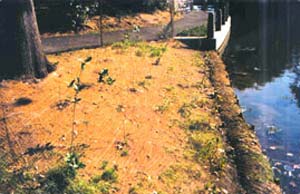 In addition to the coir logs, another natural erosion control option you may consider is a GEI Works Erosion Control Mat. Made from the same 100% natural, biodegradable coconut coir materials, these products are a durable option and often used for slope or bank stabilization applications. Coir Mats are:
Available in different weights for slopes up to 1:1 or flows up to 17 fps.
Designed with planting and vegetation in mind, with a woven construction.
Biodegradable over 4 to 6 years.
Similar to coir logs, coir mats can be installed along the riverbanks to help with several different applications. Erosion control mats have also commonly been installed along slopes and other locations to help with reestablishing vegetation in the area. Often, it is beneficial for a project to use both coir mats and coir logs to establish the most strength and support.
Questions about river bank protection? Please give us a call at 1-772-646-0597 and our team will be happy to help you.