Current Page
---
Jute Matting
Jute Matting is a natural product designed to offer short-term erosion control in low to moderate areas.
Often referred to as jute netting, these mats are constructed with a woven mesh designthat provides a large open area for planting and establishing vegetation. This helps to facilitate growth and prevents further erosion from occurring in your area.
Jute mesh is a completely biodegradable product that is constructed from spun jute yarns. Due to the nature of the materials used for the blanket, this matting is ideal for sensitive areas looking to control erosion or facilitate vegetative growth. Standard mats can be used on slopes up to 3:1 and flows up to 6 fps.
Features:
Material: Jute Mesh
Roll Width: 4 ft.
Roll Length: 225 ft.
Typical Lifespan: 6-9 months
Benefits:
Safe for the Environment
Reinforces Ground Areas
Helps Plants Root Quickly
Works to Control and Prevent Erosion
Completely Biodegradable
Safe for Environmentally Sensitive Areas

Typical Erosion Control Applications:
Soil Erosion Control
Slope/Hill Side Stabilization
Drainage Location Stabilization
Stabilizes Backyard Slopes

Jute Netting Typical Sizing

Material

Rolls Size

Typical Rolls per Bale

Jute Mesh

4' x 225'

12

Typical Specifications

Open Area

60-65%

Water Absorption

> 450% of fabric weight

Thickness

0.25 inch (6 mm)

Recommended Shear Stress

0.45 lbs./sq.ft. (22 N/sq.m)

Recommended Flow

6 fps (1.8 m/s)

Recommended Slope

3:1

Coverage

100 Square yards/roll

Roll Weight

90 Lbs (+/- 5%) 14.7 oz/SY (490 g/m2)
Erosion Control Matting
In addition to the jute mesh shown above, we also offer several other erosion control matting optionsincluding straw erosion control mats, coir fiber matting, and wood fiber blends.


Short-Term Projects: For short-term erosion control projects, the Straw Erosion Control Blanket is a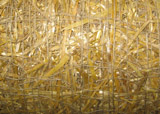 favorite! These blankets feature a typical lifespan anywhere from 6 months to 2 years to temporarily control erosion in your location.


Long-Term Projects: For erosion control projects that are especially long term or used in demanding locations, the Coir Products are often the best available option. These high strength fibers can be used on steeper slopes, higher flow areas, or locations looking for long term erosion control. The typical life span of a coir mat is anywhere from
4 to 6 years.

Erosion Control Accessories

For stakes, pegs, staples and more check out our store!

Customers Who Viewed This Product Also Viewed:


Questions? We can help! Call our team at +1-772-646-0597 or fill out our quote request form to discuss your requirements.
---