Ultratech Dewatering Filter Bags
Sediment Filter Bags for Dewatering
For filtration of sediment, silt and oil, Dewatering Filter Bags are the most popular solution. Our Ultratech dewatering bags can filter both sediment and oil and are constructed with an outer nonwoven filter fabric that allows water to slowly drain out of the bag while sediment, silt and other materials are retained inside the bag. Sediment filter bags like these are used for a variety of applications including construction site dewatering projects.
Our friendly staff is here to help you get the exact product you need!.


Ultratech Dewatering Bag Construction and Filtration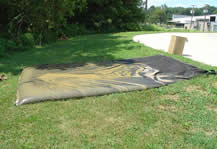 The construction of a dewatering bag includes the use of nonwoven geotextile filter fabric. These fabrics are designed to filter out materials at various filtration levels depending on the strength of fabric. The max flow rate of a new Ultra dewatering bag is 500 gallons per minute. Sizes for the sediment filter bags we carry include the following:
3'x4' (0.9 x 1.2)
6'x6' (1.8 x 1.8)
8'x8' (2.4 x 2.4)
10'x15' (3.0 x 4.6)
15'x15' (4.6 x 4.6)
| Part # | Dimensions ft. (m) | Capacity cu. ft. (L) | Weight lbs. (kg) |
| --- | --- | --- | --- |
| Ultratech 9729-O/S | 3 x 4 (0.9 x 1.2) | 12 (340) | 2.0 (1.0) |
| Ultratech 9724-O/S | 6 x 6 (1.8 x 1.8) | 36 (1,019) | 5.0 (2.5) |
| Ultratech 9723-O/S | 8 x 8 (2.4 x 2.4) | 64 (1,812) | 5.0 (2.5) |
| Ultratech 9725-O/S | 10 x 15 (3.0 x 4.6) | 150 (4,247) | 21.0 (9.5) |
| Ultratech 9727-O/S | 15 x 15 (4.6 x 4.6) | 225 (6,371) | 30.0 (14.0) |
Custom sizing for the dewatering bags is also available, so please do not hesitate to ask.
Dewatering Filter Bag Placement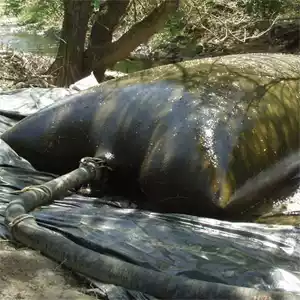 Placement for the Dewatering Sediment Filter Bags can include anything from the edge of construction sites to resting in the bed of dump trucks. Elevating the the Ultratech dewatering bags, such as with hay bales or other aggregates, can help to increase efficiency and filtration levels on your site. For safety and optimal performance, make sure that the Ultra dewatering bags are placed on a flat and level surface.
Dewatering filter bags can be used in several different locations including the following:
Dump Trucks
Construction Sites
Drop Boxes
Trailers and Dumpsters
Flat Areas
Pond Banks
Hay Bales
As seen in the list above, sediment filter bags can be easily used in dump trucks, drop boxes and other locations where filled Ultratech dewatering bags can be easily transported. To learn how to connect a dewatering bag to a hose, read about Dewatering Bag Connections.
Questions about a silt filtration bag? We can help! Call our team at 1-863-261-8388 or fill out our quote request form to discuss your requirements.