Dewatering Bag Connections
Attaching Hose Fittings to Silt Filter Bags
Question: I am looking for information on dewatering bag connections. What options do I have available? I have been using one of your dewatering bags and am struggling trying to figure out how to connect a hose. I am afraid it will just fall right back out. Do you have any suggestions on how this might be done?
Answer: A dewatering or sediment filter bag is designed to contain sediment, sludge, and other material during a dewatering process. Due to their flexible design and construction, these bags have been made to accommodate several different hose connections up to 4 inches that might be found in your location.
Questions about silt filter bags? We can help! Call our team at 1-772-646-0597 or fill out our quote request form to discuss your requirements.
Options for Dewatering Bag Connections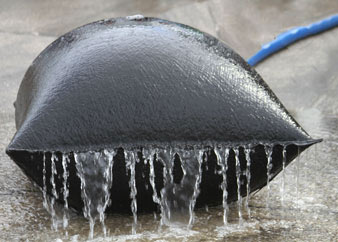 Dewatering bags are typically designed to accommodate several different hose sizes including:
2" Discharge Hose
3" Discharge Hose
4" Discharge Hose
Use the following process to connect a hose to one of our silt filter bags:
Identify the Open Section of the Bag. This is usually at one corner of the dewatering bag. The opening will be large enough to fit your hose.
Insert the Hose.
Clamp the Fabric to the Bag. This can be done using almost anything securing material including
For full installation instructions, read through our Dewatering Bag Installation Guide.
Additional Dewatering Bag Options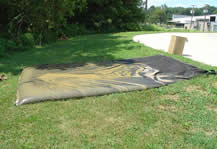 If you are particularly concerned about the hose coming out of the bag, there are several considerations or options you could choose to help ensure a safe process.
Flow Rate. Any time you are looking for a dewatering bag, will you will want to make sure that the bag fabric, size, and style you choose is equipped to handle your site's flow rate. Bags offered here are usually made from either an 8 oz. or 10 oz. material and will have an available flow rate of either 80 gpm/sq. yard or 60 gpm/sq.yard, respectively.


Volume. Along these same lines, you will also want to make sure that your dewatering bag can handle the amount of sediment you expect to collect. You should consider the size, amount, and type of sediment.


Placement. If you are worried about the hose, you could also place the bag in a contained area such as a dump truck or drop box. This will help temporarily contain discharge if it comes disconnected, as well as ease the transportation process of your discharge materials.
View all our Dewatering Bags.
Questions about dewatering bags? We can help! Call our team at 1-772-646-0597 or fill out our quote request form to discuss your requirements.