Erosion Control Material
Biodegradable Erosion Control Fabric for Soil Stabilization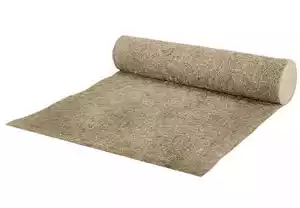 Erosion control material options include several different biodegradable fabrics for natural stabilization and bank reinforcement. Made from a wide range of natural fibers, these blankets can be constructed with any of the following materials:
Straw
Coconut Coir Fibers
Wood Fibers
Straw/Coco Blends
These erosion control materials create a biodegradable framework for stabilizing locations and controlling erosion. Using biodegradable erosion control products is beneficial when dealing with environmentally-sensitive locations.
Each of these materials can be built into an erosion and sediment control product that meets specific needs. Products include fabrics laid out flat to create matting and blankets or bunched into a log form to stabilize banks and shorelines.
Our friendly staff is here to help you get the exact product you need!.

or Contact us for additional information.
Biodegradable Erosion Control Mat Options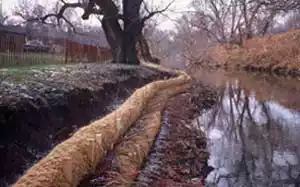 Biodegradable erosion control products and materials vary in type and application from slope and soil stabilization to ecofriendly landscaping. Choosing which biodegradable erosion control product is right for your needs will be determined by the duration of the project, the steepness of the slope, the amount of water flow, and other factors. All of these products will naturally biodegrade over time and require various installation processes.
Biodegradable Erosion Control Logs
Densely packed logs can be filled with coir or straw fibers. Coir logs are designed to be robust to hold up in demanding locations such as high flows or steep banks.

Erosion control logs are effective methods of runoff and sediment control and soil stabilization. Because of their density and strength, erosion control logs add needed stability and support to erosion prone slopes like banks, streams, and shorelines. Coir fiber erosion control logs feature tightly packed fibers in tube-shaped netting. Standard coir logs come in lengths of 10 feet with diameters of 12, 16, or 20 inches. Logs can be joined together with twine to meet specific needs.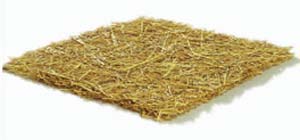 Erosion Control Mats for Soil Stabilization
Erosion control mats are another favorite for erosion control and often feature blends of either coconut coir, straw, or wood fiber blends. Mats will vary in strength depending on the type of erosion control material or fabric they are constructed from. Higher strength mats will typically be built from the tough coir fiber, while shorter term erosion may use straw or coco-straw blends.

Because the density of coir erosion control mats, these products equipped to handle steeper slopes with high water flows. Straw erosion control blankets, while less expensive and easier to move, are equipped to handle less steep slopes and lower water flows. Both coir and straw erosion control mats can be seeded during installation to encourage the growth of local vegetation, furthering, strengthening, and stabilizing soil while controlling erosion.
Erosion Control Wattles and Filtration
Another similar erosion control product is one of our erosion control wattles. While not as densely packed as one of our logs, these wattles are designed to filter out sediment and sand from stormwater runoff.

Erosion control wattles also come with different materials inside them, like coir fibers or straw blends. Coir erosion control wattles are useful for silt containment and sediment control. Wattles can be used on the perimeter of construction sites to keep businesses in compliance or on asphalt before storm drains.
Questions about our biodegradable erosion control product options? Call our team at 1-863-270-8118 or fill out our quote request form.
Biodegradable Erosion Control Mat Applications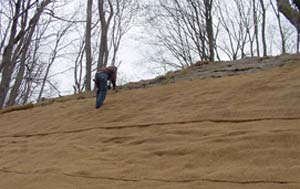 Erosion control products can be used in several different applications to help stabilize soil and facilitate vegetation.
Choosing to use logs, mats, or wattles will be determined by the location of the erosion, the slope ratio, and the amount of water flow in the area.
Regardless of the specifics of the location, these are some of the most common locations where erosion control products are used:
Hillside Erosion Control
Bank Stabilization
Stream Restoration
Slope Reinforcement
Wetland Restoration
Erosion control products can also be used in ecofriendly landscaping practices. Using coir and straw mats can stabilize soil and promote vegetation because of their biodegradable qualities. When wanting to seed an area while still giving it added stability, using erosion control blankets or mats will enrich the soil when the products disintegrate.
For more information on any of these products, check out more of our products:
Do you have questions about our various erosion control products? We can help! Call our team at 1-863-270-8118 or fill out our quote request form to discuss your requirements.