Current Page
---
Straw Erosion Control Blankets
Single Net Straw Blanket Biodegradable Jute Netting
Straw Blanket
Single Net Straw Erosion Control Blankets are a biodegradable product designed to offer short-term control during restoration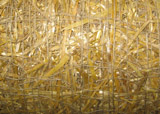 projects, seeding requirements or other vegetation projects. Offering a typical life span of up to 12 months, these blankets are the perfect option for fast-growing plants, short term projects or erosion control in low-level areas.
Straw Blankets are constructed using biodegradable wheat straw that is distributed evenly between biodegradable jute netting. Over time, both components of the mat will slowly biodegrade to enrich the surrounding environment. These blankets are commonly used on slopes 3:1 or less and low flow areas.
Features:
Fibers: 100% Wheat Straw
Netting: Single Jute
Threads: Biodegradable Jute, Rayon, or Cotton
Wheat Straw Distributed between Two Nettings
Roll Widths: 4-16 Feet, Custom widths in between
Roll Lengths: 50-800 feet, Custom Widths in between

Benefits:
Completely Biodegradable Product
Safe for Environmentally Sensitive Areas
Perfect for Small Slopes and Low Flow Channels
Easy to Install
Stabilizes and Controls Erosion in a Given Area

Typical Erosion Control Applications:
Stabilization in Natural Habitats or Areas with Environmental Concerns
Roadside Stabilization
Riverbank Support
Control in Low-Flow Channels
Restoration Jobs
Erosion Control Blankets
Technical Specifications

Flyer

Installation

Contents

100% Wheat Straw

Netting

Single Jute (biodegradable)

Thread

Jute, Rayon, or Cotton (biodegradable)

Area

100 sq. yards/ 83.6 sq. meters (standard)

Weight (Approx)

63 lbs./ 28.6 kg (0.63 lbs/ sq yard)

Life

Short to Medium term, approx 12 months

Best use

3:1 slopes or less
Low-Flow
Channels

Thread Spacing

1 1/2 inches


*Custom widths and lengths also available.
Erosion Control Accessories

Erosion Control Accessories are a great addition to any site using straw blankets, coir matting or other erosion control materials. Ask about our standard and biodegradable accessory options.
To view our complete straw variety, check out our Straw Erosion Control Blankets

Questions? We can help! Call our team at +1-772-646-0597 or fill out our quote request form to discuss your requirements.
© Copyright GEI Works 2017. All rights reserved.
GEI Works is a global solutions provider offering our product solutions to the following states, countries, territories and provinces:

States:

Alabama, AL | Alaska, AK | Arizona, AZ | Arkansas, AR | California, CA | Colorado, CO | Connecticut, CT | Delaware, DE | Florida, FL | Georgia, GA | Hawaii, HI | Idaho, ID | Illinois, IL | Indiana, IN | Iowa, IA | Kansas, KS | Kentucky, KY | Louisiana, LA | Maine, ME | Maryland, MD | Massachusetts, MA | Michigan, MI | Minnesota, MN | Mississippi, MS | Missouri, MO | Montana, MT | Nebraska, NE | Nevada, NV | New Hampshire, NH | New Jersey, NJ | New Mexico, NM | New York, NY | North Carolina, NC | North Dakota, ND | Ohio, OH | Oklahoma, OK | Oregon, OR | Pennsylvania, PA | Rhode Island, RI | South Carolina, SC | South Dakota, SD | Tennessee, TN | Texas, TX | Utah, UT | Vermont, VT | Virginia, VA | Washington, WA | West Virginia, WV | Wisconsin, WI | Wyoming, WY

Countries, Territories and Provinces:

Malaysia, MY | Indonesia, ID | Antigua and Barbuda, AG | Bahamas, BS | Barbados, BB | Belize, BZ | British Virgin Islands, VG | Cayman Islands, KY | Dominican Republic, DO | Grenada, GD | Haiti, HT | Jamaica, JM | Montserrat, MS | Puerto Rico, PR | Saint Lucia, LC | Saint Vincent and the Grenadines, VC | Trinidad and Tobago, TT | Turks and Caicos Islands, TC | United States, US | US Virgin Islands, VI | Mexico, MX | Campeche, CM | Quintana Roo, QR | Yucatan, YU | Central and South America | Canada, CA | Alberta, AB | British Columbia, BC | Manitoba, MB | New Brunswick, NB | Newfoundland and Labrador, NL | Northwest Territories, NT | Nova Scotia, NS | Nunavut, NU | Ontario, ON | Prince Edward Island, PE | Quebec, QC | Saskatchewan, SK | Yukon, YT
© Copyright GEI Works 2017. All rights reserved.
GEI Works is a global solutions provider offering our product solutions to the following states, countries, territories and provinces:

States:

Alabama, AL | Alaska, AK | Arizona, AZ | Arkansas, AR | California, CA | Colorado, CO | Connecticut, CT | Delaware, DE | Florida, FL | Georgia, GA | Hawaii, HI | Idaho, ID | Illinois, IL | Indiana, IN | Iowa, IA | Kansas, KS | Kentucky, KY | Louisiana, LA | Maine, ME | Maryland, MD | Massachusetts, MA | Michigan, MI | Minnesota, MN | Mississippi, MS | Missouri, MO | Montana, MT | Nebraska, NE | Nevada, NV | New Hampshire, NH | New Jersey, NJ | New Mexico, NM | New York, NY | North Carolina, NC | North Dakota, ND | Ohio, OH | Oklahoma, OK | Oregon, OR | Pennsylvania, PA | Rhode Island, RI | South Carolina, SC | South Dakota, SD | Tennessee, TN | Texas, TX | Utah, UT | Vermont, VT | Virginia, VA | Washington, WA | West Virginia, WV | Wisconsin, WI | Wyoming, WY

Countries, Territories and Provinces:

Malaysia, MY | Indonesia, ID | Antigua and Barbuda, AG | Bahamas, BS | Barbados, BB | Belize, BZ | British Virgin Islands, VG | Cayman Islands, KY | Dominican Republic, DO | Grenada, GD | Haiti, HT | Jamaica, JM | Montserrat, MS | Puerto Rico, PR | Saint Lucia, LC | Saint Vincent and the Grenadines, VC | Trinidad and Tobago, TT | Turks and Caicos Islands, TC | United States, US | US Virgin Islands, VI | Mexico, MX | Campeche, CM | Quintana Roo, QR | Yucatan, YU | Central and South America | Canada, CA | Alberta, AB | British Columbia, BC | Manitoba, MB | New Brunswick, NB | Newfoundland and Labrador, NL | Northwest Territories, NT | Nova Scotia, NS | Nunavut, NU | Ontario, ON | Prince Edward Island, PE | Quebec, QC | Saskatchewan, SK | Yukon, YT