Straw Erosion Control Blankets
Single Net Straw Blankets with Biodegradable Jute Netting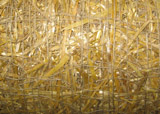 Single net straw erosion control blankets are biodegradable products designed to offer short-term control during restoration projects, seeding requirements or other vegetation projects. Offering a typical life span of up to 12 months, these straw blankets are the perfect option for fast-growing plants, short term projects or erosion control in low-level areas.
Straw blankets are constructed using biodegradable wheat straw that is distributed evenly between biodegradable jute netting. Over time, both components of the straw mat will slowly biodegrade to enrich the surrounding environment. These single net straw blankets are commonly used on slopes 3:1 or less and low flow areas.
Features of Straw Blankets




Fibers: 100% Wheat Straw
Netting: Single Jute
Threads: Biodegradable Jute, Rayon, or Cotton
Wheat Straw Distributed between Two Nettings
Roll Widths: 4-16 Feet, Custom Widths
Roll Lengths: 50-800 Feet

Benefits of Straw Blankets




Completely Biodegradable
Safe for Environmentally Sensitive Areas
Perfect for Small Slopes and Low Flow Channels
Easy to Install
Stabilizes and Controls Erosion in a Given Area
Standard Straw Erosion Control Blanket Applications
Stabilization in Natural Habitats or Areas with Environmental Concerns
Roadside Stabilization
Riverbank Support
Control in Low Flow Channels
Restoration Jobs
Erosion Control Blanket Technical Specifications
Contents
100% Wheat Straw
Netting
Jute
Thread
Jute, Rayon, or Cotton
Area
100 yd² / 83.6 m²
Weight (Approx)
63 lbs. / 28.6 kg (0.63 lbs / yd²)
Lifespan
Short to Medium Term, Approx. 12 Months
Best Use
3:1 Slopes or Less
Low-Flow Channels
Thread Spacing
1 1/2 inches
*Custom widths and lengths also available.
Erosion Control Accessories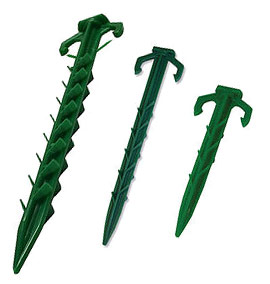 Erosion control accessories are a great addition to any site using straw blankets, coir matting, or other erosion control materials. Ask about our standard and biodegradable accessory options.
To view our complete straw variety, check out our Straw Erosion Control Blankets.

Customers Who Viewed This Product Also Viewed


Aspen Excelsior Blanket
90 Day Erosion Control Blanket
Double Net Straw
Erosion Control Blanket
Questions about straw blankets? We can help! Call our team at 1-772-646-0597 or fill out our quote request form to discuss your requirements.