Polypropylene Fabric Geotextile
Polyprop Geotex 4 x 1
Geotex 4 x 1
The polypropylene fabric geotextile is manufactured from high strength fabrics that are woven together to create a robust product that helps with a stabilization, retaining structures, embankment and more. Due to their high strength and reliable fabric design, these liners have often been implemented as geomembrane liners, lagoon liners, e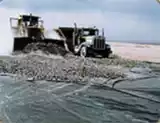 mbankment support and more.
Each geotextile is equipped with properties that provide UV resistance, rot resistance and chemical degradation resistance. This provides customers with a robust material that offers a long-term lifespan and reliable strength around your location.
Our friendly staff is here to help you get the exact product you need!.


Polypropylene Fabric Geotextile Features
High Tenacity Polyester Multifilament (warp)
Polypropylene Slit Tape Yarns (fill)
Individually Woven Yarns for Added Strength
Polypropylene Fabric Geotextile Benefits
Long Term Life
Uniquely Strong
More Effective than Standard Geotextile
Cost Effective
Resistant to UV Degradation
Resistant Chemical Degradation
Resistant to Biological Degradation
Erosion Control Applications
Steepened Slopes
Modular Block Retaining Walls
Wrapped-Face Retaining Walls
Landfill Geomembrane Liners
Lagoon Closures
Retaining Structures
Embankment Reinforcement

Geotex® 4 x 1 Technical Specifications

MARV

Property
Test Method
English
Metric
Mechanical
Tensile Strength (Grab)
ASTM D-4632
425 lbs
1890 N
Wide Width Tensile
ASTM D-4595
4800 lbs/ft
70 kN/m
Wide Width Elongation
ASTM D-4595
8%
8%
Wide Width Tensile Strength at 5% Strain
ASTM D-4595
1800 lbs/ft
26.2 kN/m
Long-Term Design Strength (LTDS)
GRI-GT7
2272 lbs/ft
33.1 kN/m
Puncture
ASTM D-4833
100 lbs
445 N
Trapezoidal Tear
ASTM D-4533
170 lbs
755 N
Endurance
UV Resistance
ASTM D-4355
N/A
N/A
Hydraulic
Apparent Opening Size (AOS)3
ASTM D-4751
30 US Std. Sieve
0.600 mm
Permittivity
ASTM D-4491
0.03 sec-1
0.03 sec-1
Water Flow Rate
ASTM D-4491
2 gpm/ft2
80 l/min/m2
Roll Sizes
7.5 ft x 300 ft / 2.29 m x 91.5 m
Woven Geotextile Options
The woven fabric geotextile is a reliable fabric that is available in a range of strengths to help with support under roads, under rip rap and in several other areas. Typical geotextile strength options include the following:
200 lbs. Grab Tensile
250 lbs. Grab Tensile
315 lbs. Grab Tensile
If you are dealing with an area that require additional strength, please let us know! Each of our fabrics are available in several different options to help with all your specifications and requirements.
Questions? We can help! Call our team at 1-863-261-8388 or fill out our quote request form to discuss your requirements.

© Copyright Erosion Control Products 2023. All rights reserved.
Erosion Control Products is a global solutions provider offering our product solutions to the following states, countries, territories and provinces:

States:

Alabama, AL | Alaska, AK | Arizona, AZ | Arkansas, AR | California, CA | Colorado, CO | Connecticut, CT | Delaware, DE | Florida, FL | Georgia, GA | Hawaii, HI | Idaho, ID | Illinois, IL | Indiana, IN | Iowa, IA | Kansas, KS | Kentucky, KY | Louisiana, LA | Maine, ME | Maryland, MD | Massachusetts, MA | Michigan, MI | Minnesota, MN | Mississippi, MS | Missouri, MO | Montana, MT | Nebraska, NE | Nevada, NV | New Hampshire, NH | New Jersey, NJ | New Mexico, NM | New York, NY | North Carolina, NC | North Dakota, ND | Ohio, OH | Oklahoma, OK | Oregon, OR | Pennsylvania, PA | Rhode Island, RI | South Carolina, SC | South Dakota, SD | Tennessee, TN | Texas, TX | Utah, UT | Vermont, VT | Virginia, VA | Washington, WA | West Virginia, WV | Wisconsin, WI | Wyoming, WY

Countries, Territories and Provinces:

Malaysia, MY | Indonesia, ID | Antigua and Barbuda, AG | Bahamas, BS | Barbados, BB | Belize, BZ | British Virgin Islands, VG | Cayman Islands, KY | Dominican Republic, DO | Grenada, GD | Haiti, HT | Jamaica, JM | Montserrat, MS | Puerto Rico, PR | Saint Lucia, LC | Saint Vincent and the Grenadines, VC | Trinidad and Tobago, TT | Turks and Caicos Islands, TC | United States, US | US Virgin Islands, VI | Mexico, MX | Campeche, CM | Quintana Roo, QR | Yucatan, YU | Central and South America | Canada, CA | Alberta, AB | British Columbia, BC | Manitoba, MB | New Brunswick, NB | Newfoundland and Labrador, NL | Northwest Territories, NT | Nova Scotia, NS | Nunavut, NU | Ontario, ON | Prince Edward Island, PE | Quebec, QC | Saskatchewan, SK | Yukon, YT