Geotextile Filter Fabric
Nonwoven Geotextile Filter Fabric
Question: I am looking for geotextile filter fabric to help filter out some sediment that I have during draining. Which one would I use for this kind of application?
Answer: Typically for filtering or draining applications, a nonwoven geotextile is the best choice. Unlike some of the woven material alternatives, the nonwoven geotextile has been needle punched to allow water to easily flow through the system for effective filtering. A good option for this would be our Nonwoven Control Material.
Our friendly staff is here to help you get the exact product you need!.


Features:
Low Weight Geotextile
(approx. 3.8 oz / sq. yd.)
Needle Punched for Effective Filtering
UV resistant
Remains Stable within a pH range of 2 to 13
Rot Resistant
Flexible and Easy to Use
Other Effective Draining Products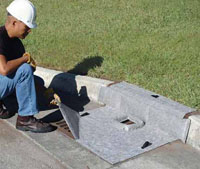 If you are looking for items that can filter materials specifically around drains, in drains, and in drain inlets, another great option is Stormwater Management BMPs. These items offer a long list of products designed specifically for storm drain control.
Catch Basin Filter Inserts: Insert directly into the drain to catch materials before they entering drinking water sources.
Inlet and Drain Guards: Sit above the drain to filter materials before they even enter the draining system.
Inlet Protectors: Long tubular draining logs that sit in front of inlets to block debris and sediment from entering.
Coir Filtering Products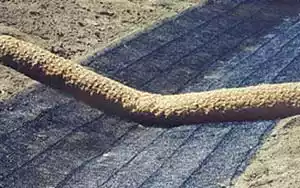 Coir is also a natural choice you can choose for filtering out sediment in drains and surrounding areas. Made as a natural fiber, these materials are placed in front and around drains to effectively filter out the material before it flows to the drain.
Coir Wattle: Made from densely packed mattress coir fiber, this log-shaped product can be placed in front of inlets to protect and help filter incoming stormwater runoff.
Coir Bags: These bags are made from natural, biodegradable fibers and are filled with rocks for added stability and placement.
Please give us a call at1-863-261-8388 and our team will be happy to help you.