Sandless Sandbags
Water Activated Flood Barrier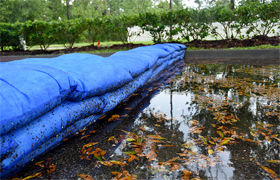 Sandless sandbags are the future of flood protection. Gone are the days of back-breaking labor from filling sandbags for conventional flood protection. With water filled sandbags, you can have flood protection in a matter of minutes. If you need a barrier to prevent flooding and want something fast-acting (see video below!), then the sandless sandbags are the product for you.
As a flood barrier, sandless flood bags are both reliable and easy to use. Made from a rugged covering of hydrophilic, sturdy, non-woven fabric, you get four layers of super absorbent polymer ready to be activated at a moment's notice for your flood protection needs.
You might be wondering, "how do sandless sandbags work?" and "how long does a sandless sandbag last?" The following information on this page will answer all your questions.
Our friendly staff is here to help you get the exact product you need!.


Sandless Sandbag Specifications
Part #
5400
Model
15-Pack
Dimensions in. (mm)
Dry Bag: 22 x 17 x 1 (559 x 432 x 25)
Full Absorbed Bag: 20 x 16 x 4 (508 x 406 x 102)
Absorption Capacity gal. (L)
4 (15)
Weight lbs. (kg)
Dry Bag: 0.33 (0.15)
Fully Absorbed Bag: 30-40 (14-18)
For activating the sandless sandbags, all you need is an appropriately sized basin or container for you to immerse the sandless sandbags in. These containers can be anything from a small pool, bucket, basin, or storage container. We have available a staging containment pool for activating multiple sandless sandbags at one time. For more information on this containment berm, see the specifications below or contact our sales team at 1-863-261-8388 or Contact Us through our webform.
Sandless Sandbag Features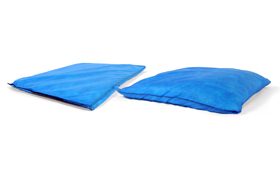 Sandless sandbags are activated in fresh water in just five minutes. Simply immerse your flood barrier bags in water and watch them absorb water up to 90 percent capacity. Before activation, sandless sandbags weigh less than one pound and measure 17"x22", and after activation, they can provide up to 30 to 40 pounds of flood stopping weight. Sandless sandbags are made to be a consistent shape throughout. While other sandbags and flood barrier devices will slump to one side when picked up, the sandless sandbag will remain in shape and be extremely effective when stacked.
Dimensions: 17" x 22"
Hydrophilic, Non-Woven Fabric Covering
Four Layers of Super Absorbent Polymer
Before Activation: Less Than One Pound
After Activation: 30-40 Pounds
Sandless Sandbag Benefits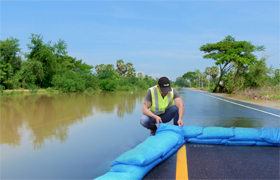 When you need a fast flood barrier, you might be tempted to find your nearest sandbag distributor, but there's a faster way. Prepare for floods now and purchase sandless sandbags. When you have sandless sandbags on hand, you won't need to fill sandbags for flood protection. You just need to activate your sandless sandbags in water for them to work. You can use sandless sandbags for home flood protection, business flood protection, and for protection around storm drains and grates. Sandless sandbags can be thought of as reusable flood water bags in that you can move them easily from location during a flood emergency.
Fast Activating Flood Protection
Reusable Flood Water Bags
No Sand Shoveling
Reliable Barrier to Prevent Flooding
Emergency Preparedness for Floods and Other Flood Bag Applications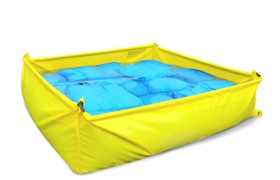 Sandless sandbags have numerous applications in our modern time. From preparing for hurricane season to responding household flooding situations, you can use these water-filled sandbags for just about any flood protection application.
Household Flood Protection
Hurricane Flood Protection
Emergency Preparedness for Floods
Barrier to Prevent Flooding
You can use Sandless Sandbags for household flood protection, as a barrier to prevent flooding at your business, or around storm drains. Water filled sandbags will last as long as they are filled with water. They can be moved from location to location as a flood barrier and, depending on the climate where you are using them, and will usually last 1 to 3 months after activation. Sandless sandbags cannot be returned to their pre-activation state. Be ready for hurricane season and the storm surge that comes with it. Get sandless sandbags for your hurricane preparedness supplies kit.
If you're interested in being prepared for flood season with a supply of sandless sandbags on-hand, then let us know! Transporting them to you is simple in their preactivated state--they only weigh less than one pound.

Customers Who Viewed This Product Also Viewed


Sandbags
Bulk Bags
Sandbag Filling Machine
Ready for pricing on the concrete washout berm? We can help. We can help! Call our team at 1-863-261-8388 or fill out our quote request form to discuss your requirements.