Current Page
---
Lagoon Sludge Removal Tubes
Question: Hello. I am looking for lagoon sludge removal tubes. I have a lagoon here that is full of sludge and I need to dewater it. I saw that you have dewatering bags as well as several larger dewatering tubes, how is the water collected outside the bag? We are currently sending 20 truck loads of material to a lagoon.
Answer: Thank you for contacting us! The collection and distribution of your lagoon can depend on the type of sediment or sludge you collecting out of the tube, as well as what location you plan to place this water. Typically when dewatering a site or lagoon, sediment will be stored inside the tube while filtered water is directed to a retention area or reservoir.

Filtered Runoff from the Geotextile Dewatering Tube
Depending on your location for dewatering, filtered runoff from the geotextile tube can be
directed to several different locations.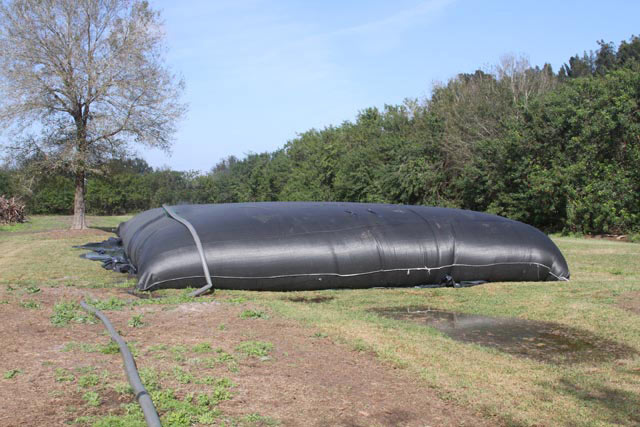 Reservoirs or Retention Areas: As mentioned above, a common method is to direct filtered water to a designated reservoir or retention area. This can be done through the use of berms and tube placement.


Back into the Lagoon: If you will be dewatering next to your lagoon, another common method would be to direct the water back into the lagoon. Typically during any dewatering tube project, a ground liner or berm is placed underneath the tube to help direct the water to its intended location.


Inside Dump Containers: Depending on the size of your project, the dewatering tube can also be placed directly into large dump truck or container. Water can then be drains from these containers into desired areas.

Geotextile Tube Construction
The construction of lagoon sludge removal tubes includes several components that help to easily operate and fill your tube. Standard features for these tubes include:
Woven Geotextile Material: Polypropylene or Polyester
UV Stabilized
Typical Circumferences: 15, 30, 45 or 60 feet (larger circumferences can include units up to 75 or 90 feet)
Filling Ports: Varies from one to three (1 to 3) based on the length and volume of your tube. If more than one port is included on your unit, spacing between these ports will be even.
Typical Lengths: 50, 100, 150 or 200 feet (other lengths available on request)

Use with Polymers
Particularly when dealing with sludge, many customers choose to use polymers or flocculent to help improve dewatering times and help to treat the sludge coming from their lagoon. Depending on your specific area conditions, contacting a polymer specialist can be a good choice for this type of dewatering process. Polymers are often mixed directly into the lagoon sludge removal tubes.
If you have questions about products, give us a call at +1-772-646-0597 or request a price quote.
---