Lagoon Sludge Removal Tubes
Sludge Tubes
Lagoon sludge removal tubes are an important part of removing sediment, debris, and other material from the bottom of lakes, rivers, and harbors. Specially engineered textile keep fine solids inside sludge tubes, allowing clean water to flow through the durable fabric. Use lagoon sludge dewatering in Waste Water Treatment Plants (WWTP's), agricultural ponds, for dredging, and more. Stay in compliance, use our sludge tube with high volume and low cost for your sludge removal solution. Speak with one of our specialists to find out more about available sizes to meet your site needs.
Our friendly staff is here to help you get the exact product you need!.


Sludge Removal Tube Features
Woven Geotextile Material
UV Stabilized Length: Up to 200 ft.
Circumference: Up to 120 ft.
Effectively Filters out Sludge, Silt, Sediment, and Waste
Easy Removal and Disposal of Solids
Reliable in All Weather Conditions
Sludge Removal Tubes Benefits
Designed for Large or Small Sludge Removal Projects
High Strength Woven Geotextile Fabrics
Large Sizes Available
Cost Effective and Low Maintenance
Reduces Risks in Operational Safety
Efficient, Versatile and Environmental Friendly
Sludge Removal Tube Specifications
| Property | Value | Additional Notes |
| --- | --- | --- |
| Length | 22', 50', 57', and 100' | Other Lengths by Special Order |
| Circumference | 22.5', 30', 45', 60', 120' | - |
| Filling Port Spacing | 1 - 3 ports | Average One Port Every 50' of Length |
*Custom sizing also available.
Sludge Removal Tube Capacity
| Size Per Tube (Circumference) | Tube Volume(Cy/Tube) Silts & Organics | Tube Volume(Cy/Tube) Sand & Minerals |
| --- | --- | --- |
| 22.5 ft. | 20 - 25 | 20 - 25 |
| 30 ft. | 99 | 85 |
| 45 ft. | 204 | 172 |
| 45 ft. | 367 | 309 |
| 60 ft. | 553 | 464 |
| 120 ft. | 1460 | 1185 |
Sludge Dewatering Tubes Construction and Filtration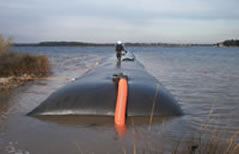 Lagoon sludge dewatering tubes are specially engineered to allow large amounts of sludge and silt to be removed. Sludge removal tubes are created with high-strength, quality-seaming for an efficient and environmentally friendly solution for dewatering. Designed to help you contain and dewater sludge in excess of 50%, these sludge dewatering tubes make the process more cost-effective than belt presses or other methods of dewatering. Our sludge tubes are available in a variety of sizes for large-scale or smaller applications.
Lagoon sludge tubes work best when filled to 85% capacity with sludge and sediment, then allowed to consolidate. Once consolidation has taken place, refill and continue the cycle until the solids reach 85% capacity. Leave dewatering tubes in place for extended periods to achieve best results. After the sludge removal process is complete, remove and transport to an off-site location or use as fill or compost.
Sludge Dewatering Tube Runoff
Depending on your location for lagoon sludge dewatering, filtered runoff from sludge tubes are directed to several possible locations.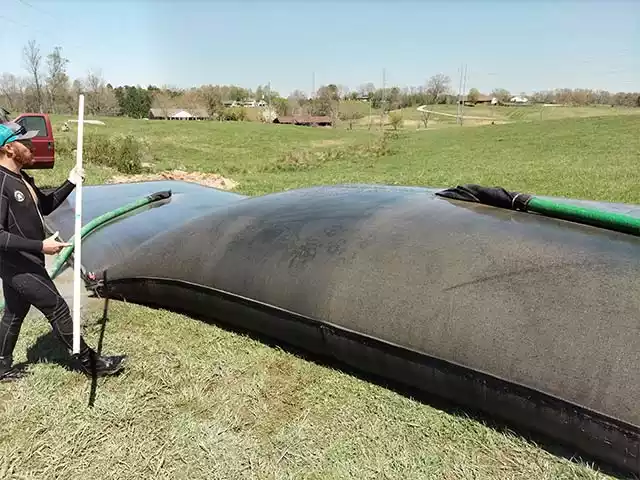 Reservoirs or Retention Areas: A common method of directing filtered water is to use designated reservoir or retention areas. This is done by using berms and sludge tube placement.
Back into the Lagoon: If you will be filtering next to your lagoon, another common method is to direct the water back into the lagoon. Place a ground liner or berm underneath sludge tubes during any sludge removal project, to help direct water to its intended location.
Inside Dump Containers: Depending on the size of your lagoon sludge dewatering project, sludge tubes can be placed directly into a large dump truck or container. Water is drained from these containers into desired areas.
Visit the Geotextile Tubes Page for more information.
If you have questions about geotextile tubes, give us a call at 1-863-261-8388 or request a price quote.