Current Page
---
Geotextile Tube
Dewatering Geotextile Tubes
Dewatering Tube
The Geotextile Tube is one of the largest and most cost effective options for dewatering a site,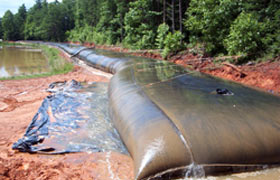 lagoon, or waste water treatment plant. Constructed from a robust woven geotextile material, these tubes are able to effectively remove and contain sludge/sediment from a water flow. With increased size, strength and durability, these tubes are an ideal choice for demanding jobs or heavy containment requirements.
Similar to dewatering bags, the geotextile tube is made from permeable fabrics that allow water to pass and filter through the bag. Standard sizes for the bags include lengths from 50' to 200' feet and circumference up to 90'.
Features:
Fabric: High Strength Geosynthetic Woven Fabric
Length: up to 100 ft.
Circumference: up to 90 ft.
UV Stable
Available in Black or White
Benefits:
Designed for Large Dewatering Requirements
High Strength Woven Fabrics
Large Sizes and Capacities
Effectively Filters out Silt, Sediment and Waste
Easy to Size to your Specific Requirements
Multi Purpose
Rated to Handle Various Chemicals and Contaminated Water
Typical Erosion Control Applications:
WTTP Sludge Removal
Agricultural Compost
Breakwater for Hotels and Beach Side Homes
Dewatering in Waste Water Plants, Coal Plants and More

Dewatering Geotextile Tube
Technical Specifications

Property
Value
Extra Notes
Length
50', 100', 150', 200'
Other Lengths by Special Order
Width (laying flat)
7.5', 12', 22.5', 30', 37.5', 45'
-
Circumference
15', 30', 45', 60', 75', 90'
-
Filling Port Spacing
1, 2, or 3 ports
Equally Spaced Depending on
the Tube Length and Volume
Bracing Loop
Every 20' OC
-
Size and Estimated Capacity per Tube
Circumference
Tube Height (ft)
Tube Volume (cy/ft)
15
3.5
0.6
30
5
2
45
5.5
3.5
60
6
5.4
Material Specification

Fabric

Woven Geotextile
UV Stable
Weight/Unit Area oz/sq.yard
(gr/sq. m)
Color
Polypropylene
Yes
Yes
16.6 (560)
Black
Polyester
Yes
Yes
17.7 (600)
White
Polyester
Yes
Yes
24 (810)
White
Having a smaller dewatering job? In addition to the large tubes, we also offer several small Dewatering Bags to help filter out sediment and materials. These bags typically include sizes of 6x6, 10x15, 20x15 and more.
In order to determine the right option for your location, we typically urge customer to take several factors into consideration including the following:
Type of solids you are filtering out
Areas available for placement of the tubes
Clear understanding of where the filtered water will flow to
How many tubes are required for your level of contents.
If you have questions about products, give us a call at +1-772-646-0597 or request a price quote.
---