Concrete Washout
Concrete Washout Berm Compliance Solutions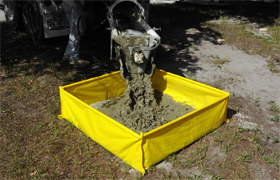 Concrete washout is an important part of staying in compliance on construction sites. When you have concrete mixers, pump trucks, and wheelbarrows, you need to have a durable, reliable place for concrete washout and sediment to go. The PVC concrete washout area can hold up to 139 gallons of concrete washout, keeping you in EPA compliance.
Our Temporary Concrete Washout area is portable and easy to set up. It comes in one complete piece and has built-in tie downs that allow the berm to be secured to a standard wooden pallet to make it easier to handle and transport. Once the water has evaporated from the concrete washout, you can easily dispose of the concrete after your project is completed.For more information on our construction site solutions, keep reading.
Our friendly staff is here to help you get the exact product you need!.


Portable Concrete Washout Specifications
| | |
| --- | --- |
| Part # | 3512 |
| Dimensions in. (mm) | 48 x 48 x 14 (1219.2 x 1219.2 x 355.6) |
| Containment Capacity gal. (L) | 139 (525) |
| Weight lbs. (kg) | 5 (2.3) |
PVC Washout Berm Features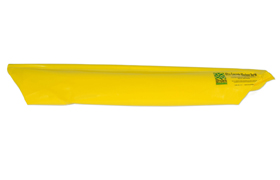 The durable construction of the PVC washout berm is one of its greatest features. When you need long-wear and stability on a construction site, you can trust the concrete washout area to be ready to handle whatever you need it for. See below to find out how you can use the temporary concrete washout box for different applications.
10 mil Polyethylene Construction
139 Gallon Capacity
Built-in Ties Downs for Easy Transport
Dimensions: 48" x 48" x 14"
Concrete Washout Berm Benefits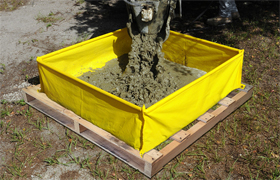 The quick setup, all-in-one portability and durability of the concrete washout berm make it great for construction sites. What's even better is you can use the concrete washout berm for other applications. When you need to keep rising floodwaters away from your jobsite, you can use the concrete washout berm to activate sandless sandbags to act as a flood barrier. See below under 'Applications' for more information.
Used for Multiple Applications and Projects
Compatible with Variety of Construction Equipment
Unfolds for Simple, Quick Set Up
Comes in One Piece for Portability
Use for Many Applications
Construction Washout Applications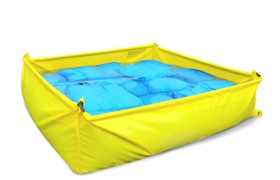 By now you understand that the concrete washout berm is perfect for holding the washout from concrete mixers, wheelbarrows, and pump trucks. But the washout berm has other applications on construction sites as well. You can also use the PVC washout berm to clean off small tools and equipment pieces as well hold them in containment.
The construction washout berm can also be used as a staging area and activation station for sandless sandbags. The Ultra Aqua sandless sandbags are made from non-woven, hydrophilic material that covers four layers of a super absorbent polymer. Before activation the sandless sandbags weigh less than one pound, and after five minutes in the staging area, they weigh 30 to 40 pounds. They are then ready to be stacked as a flood barrier to keep your jobsite safe from flood waters.

Customers Who Viewed This Product Also Viewed


Stormwater Solutions
Construction BMPs
Ultra-Filter Sock
Ready for pricing on the concrete washout berm? We can help. We can help! Call our team at 1-863-261-8388 or fill out our quote request form to discuss your requirements.