Sediment Dewatering Filter Bags
Dewatering Filter Bags for Sediment Containment
Looking for sediment dewatering filter bags? You can use a dewatering filter bag to contain sediment on construction sites and a variety of other locations and applications. For more information on the cost of these bags, contact us. See our dewatering bag video below for more information.
Our friendly staff is here to help you get the exact product you need!.


Dewatering Bag Information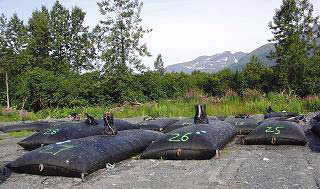 The Dewatering Filter Bag is an economical product designed to retain sediment and soils as stormwater or other water runoff materials flow into the bag. This stormwater runoff must be filtered in order to contain any contaminants present. If the stormwater is not filtered before being allowed to drain into the stormwater system, you could be presented with steep compliance fines. You can pump this water into filter bags for dewatering. The filtered water can flow off the site or be stored in ponds around your construction site location.
The dewatering filter bag has been used for various applications to help retain sediment, sludge and more. Some common applications for filter bags for dewatering have included the following:
Sludge Dewatering
Sediment Filtration
Construction Site Stormwater Runoff Filtering
Lagoon Dewatering Projects
Pond Dewatering Jobs
Filter Bags for Sediment
Dredging Projects
Dewatering Bag Sizing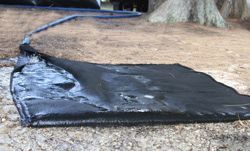 In terms of sizing and materials used, the dewatering filter bags typically are constructed from a non-woven geotextile material that features a needle-punched exterior. The most common used is the ten ounce geotextile fabric (10 oz.) which combines strength and durability with filtration. Typical sizes for dewatering filter bags:
5' x 6'
7.5' x 15'
15' x 15'
Dewatering Filter Bag Specifications
| | | |
| --- | --- | --- |
| Grab Tensile Strength | ASTM D-4632 | 270lbs |
| Grab Elongation | ASTM D-4632 | 50% |
| Trapezoid Tear | ASTM D-4533 | 100 lbs. |
| Puncture | ASTM D-4833 | 150 lbs. |
| Mullen Burst | ASTM D-3786 | 450 psi |
| Permittivity | ASTM D-4491 | .7 sec |
| Permeability | ASTM D-4491 | .25 cm/sec |
| A.O.S. | ASTM D-4751 | 100 US Sieve |
| Water Flow | ASTM D-4491 | 55 gpm/ft2 |
| U.V. Resistance (500 hr) | ASTM D-4355 | 70% |
| Weight (oz/sq yd) | ASTM D-5261 | 10 oz. |
Sediment dewatering filter bags are frequently used on construction sites. Six inch hoses can be inserted into these bags to filter runoff collection in sediment ponds or water sources. This type of filtering helps prevent contaminated runoff from exiting the site and entering stormwater drains. Typical flow rate of these dewatering filter bags is 55 gallons per minute per square feet.
Additional Construction Site Products
In addition to these dewatering filter bags, we also offer several other stormwater filtration products that may be able to help with runoff in your location. Commonly referred to as BMPs (Best Management Practices) these products feature a similar nonwoven material that can be connected to grates and stormwater drains to filter materials as they flow into the stormwater system.
These stormwater filter products include storm drain filters, curb inlet guards, and ditch checks. For information on storm drain filters and catch basin guards, give us a call at 1-863-261-8388 .
For more information on these products, please check out our Stormwater BMPs page.
Questions about sediment dewatering filter bags? We can help! Call our team at 1-863-261-8388 or fill out our quote request form to discuss your requirements.