Sediment Filter Bag Placement
Proper Locations for Dewatering Bags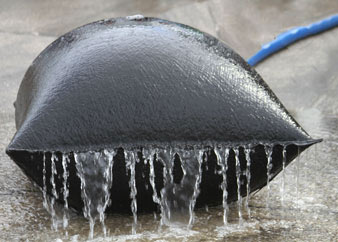 Question: Hello, I have questions about sediment filter bag placement. I am unsure if this is the right name, but I am looking for a sediment bag that I can use for the dewatering on a construction site. Where can I place this bag while it is in use? Is there a specific location that would work best?
Answer: Thank you for contacting us! The Sediment Dewatering Bag is a highly flexible product that has been used for dewatering around construction sites and other areas with sediment-laden water. Placement of your dewatering bag can depend on several different factors, including available space, desired tank transportation, and location. In general, the dewatering bag is designed to retain sediment, while allowing clear water to flow out of the bag.
Our friendly staff is here to help you get the exact product you need!.


Dewatering Bag Placement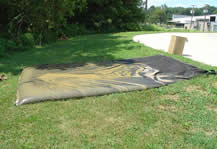 The sediment filter bag can be placed in several different areas depending on available space in your location. In general, the dewatering bag is not recommended for particularly steep slopes as the bag could roll down the slope.
Placement for the dewatering bag has included the following areas:
Ground Areas
Permeable Surfaces
20' Drop Box or Dump Truck
Grass Areas
Hale Bales
Aggregate Materials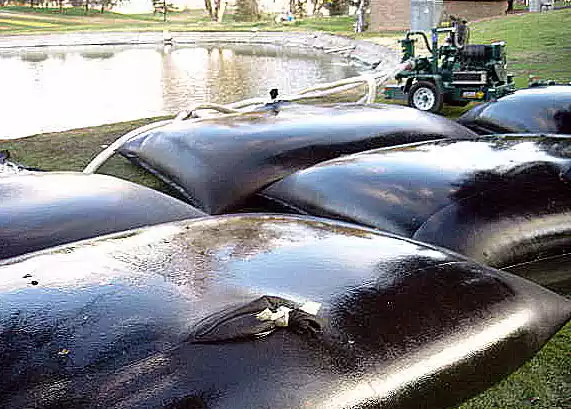 Different area conditions can work better depending on your specific locations or the type of water you need to filter through. The following is designed to display example locations for sediment filter bag placement.
Ground Filtering: One of the most common places for the dewatering bag is simply on the ground. Bags can be placed in grass areas or around other surfaces for runoff.
Hay Bales or Other Permeable Surfaces: The filter bag has also been frequently placed on porous surfaces such as hay bales or aggregates to help improve the performance of the bag. If you will be using a bag on an uneven or potentially harmful surface, please take care to ensure that the bag is not being damaged through the use of ground cloths.
20' Drop or Dump Box: Sediment filter bag placement can also include drop boxes or dump trucks to help ensure easy transportation of filtered out sediment. Dump trucks may contain drains or filters to help ease the water out of the container.
All filtered water runoff can be directed to vegetated areas to help prevent erosion due to an excess of water. Filtered water may also be directed to the nearest inlet to help further prevent erosion.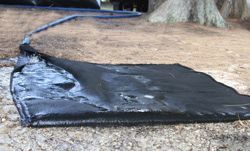 Dewatering Bag Options
The dewatering bag is available in several different styles and capacities to meet various requirements. In general, this sediment filter bag is constructed from a nonwoven geotextile material that features needle-punched fabric for fine-tune filtering or sediment removal. Bag properties include:
8 oz (80 gpm/sq.yd.) or 10 oz (60 gpm/sq.yd.) Nonwoven Material
Discharge Hose Sizes: 2", 3", or 4"
Standard Sizing:

6' x 6'
15' x 10'
15' x 15'
15' x 20'
15' x 25'
Questions about sediment filter bag placement? We can help! Call our team at 1-863-261-8388 > or fill out our quote request form to discuss your requirements.