Soil Reinforcing Mat
Soil Reinforcement Products
I need a soil reinforcing mat with wire spacing that I can use on a slope. I am trying to find something that I can use for this project that a customer gave me. My guess would be that I need coir. Do you have these erosion control mats?
For soil reinforcement, there are a couple of different fabrics and materials you can use. These can include coir (as you mentioned above) as well as a geotextile material. As seen on our Soil Reinforcement Page, some of the most common products used for this type of application can include coir mats, coir logs, and woven geotextile materials.
Our friendly staff is here to help you get the exact product you need!.


Coir Erosion Control Products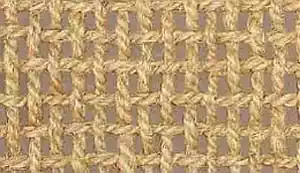 Coir is one of the most natural erosion control products available and includes several different styles and models to meet varying soil reinforcement requirements. Typical coir products you might find being implemented in this application includes the following:
Coir Erosion Control Matting: This can be used for shoreline stabilization, slope reinforcement, and wetland restoration. Mats are available in a woven design that includes areas for planting and seeding.


Coir Logs: These coir products will be larger in their vertical structure for areas with more storm water or water flows. Coir logs can similarly be used for restoration applications, reinforcement along banks and streams, and more.


Geotextile Materials

Another choice for soil stabilization is the Woven Geotextile Material. Often used to separate aggregates, soil, and more, these geotextiles may be used on steep slopes, embankments, and other areas in need of stabilization.
Typical features you will find on a geotextile material includes the following:
Woven Polypropylene Construction
High Puncture Resistance
Woven Design
Permeable
Various Tensile Strengths Available
Choosing a Soil Reinforcing Mat
Choosing a soil reinforcing mat will depend on a lot of different factors and intended applications. Due to its biodegradable nature, coir is typically seen as more of a temporary or semi-permanent option. Mats can be installed on a slope to populate the area until vegetation takes root or if vegetation is no longer necessary.
Geotextiles, on the other hand, are typically designed for long term use and can be more of a permanent stabilization solution. You might commonly find a geotexile being used for road stabilization, road repavement, and filtering requirements.
View all our Soil Reinforcement Products.
Questions? We can help! Call our team at 1-863-261-8388 or fill out our quote request form to discuss your requirements.