StrawCoco Blankets
Natural Temporary Erosion Control Mats
Strawcoco blankets are temporary erosion control mats designed for use on low level slopes (up to 3:1) and low flow areas (up to 6 fps). Working to provide both high control and short-term stabilization, these mats use a straw/coco mixture that consists of 30% coconut coir and 70% wheat straw. The combination helps provide stabilization, vegetative support, and erosion control where it is needed most. When compared to straw mats that are made of 100% wheat straw, blended strawcoco mats offer increased support and stabilization that can last anywhere from 18 to 24 months.
In addition to blended mats, we also offer straw erosion blankets with single netting, double netting, and rapid degrade netting. For more options, check out our Straw Mats.

If you have questions about strawcoco blankets, give us a call at +1-772-646-0597 or request a price quote.
StrawCoco Blanket Features




Composition: 70% Wheat Straw, 30% Coconut Fiber
Netting: 2 Natural Jute/Scrim Leno Woven Nets

StrawCoco Blanket Benefits




Short Term Erosion Control
Increased Strength for Straw Materials
Completely Biodegradable
Helps Control and Establish Vegetation
Standard Erosion Control Applications
3:1 Slopes
Areas with 6 fps Flow
Erosion Protection
Vegetation Growth
Bank Stabilization
StrawCoco Fiber Blanket Technical Specifications
Installation
Installation
Roll Width
8 ft. (2.44 m)
Roll Length
112 ft. (34.3 m)
Roll Area
100 SY (83.6 m²)
Unit Weight
9.5 oz/SY (322 g/m²)
Recommended Shear Stress on Bare Soil
1.6 lbs/ft² (77 N/m²)
Recommended Slope
3:1
Recommended Flow
6 fps (1.8 m/s)
Material Composition
Top Net/Bottom Net: Jute/Scrim (Leno Weave) 9.3 lbs/1000 ft² Thread
(Stitching): Biodegradable Cotton
Straw Blankets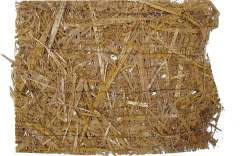 Looking for a blanket without any coconut fibers? Straw Blankets are also available for temporary control and stabilization of erosion in a location. Models include:
Single Net Blankets
Double Net Blankets
Each blanket will also offer netting options of photodegradable polypropylene, biodegradable jute, and 90 day rapid degrade polypropylene. For our complete variety, check out all of our Erosion Control Blankets.
Customers Who Viewed This Product Also Viewed

Nonwoven Geotextiles
Woven Geotextiles
Nonwoven Geotextile
Turf Reinforcement Mat
Questions about straw blankets? We can help! Call our team at +1-772-646-0597 or fill out our quote request form to discuss your requirements.