Sediment Filter Sock
Erosion Control Sock for Drains and Gutters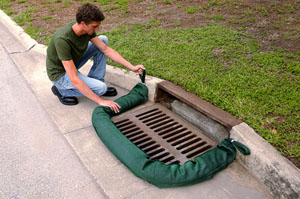 GEI Works offers the Filter Sock as a reliable option for any site looking to control the flow of sediment, silt, and metals into their drain. Designed to target and remove site specific pollutants, these socks are used as around drains, gutters, ditches and downspouts to filter water as it enters a drain system. This creates a reliable filtration perimeter that will help guard the drain and prevent unwanted pollution.
Erosion control socks feature a length of nine feet (9') and use an interior filter designed to target a specific pollutant. Models include options for the removal of carbon, hydrocarbons, sediment, phosphorous, and heavy metals.
Filter Sock Features
Standard Length: 9'
Exterior Fabric: Woven Polymer
Looped Ends
Media Options: Activated Carbon, Sorb 44 (oil & hydrocarbons), Sediment, Phos Filter, Heavy Metal Removal
Filter Sock Benefits
Targets Specific Contaminants within a Runoff Stream
Looped Ends to Secure Socks
Controls and Protects Drains
Extended Length to Protect Length of the Drain
Standard Sock Applications
Drain Protection
Erosion Control
Perimeter Control
Runoff Filtration
Questions? We can help! Call the GEI Works team at 1-772-646-0597 or fill out our quote request form to discuss your requirements.
Erosion Control Sock Technical Specifications
Description
Filtration Media
Dimensions
Weight
Activated Carbon
Chemicals and Hydrocarbons
108" x 7" x 4"
(2,743 mm x 178 mm x 102 mm)
40 lbs. (18 kg)
Sorb 44
Oil and Hydrocarbons
108" x 7" x 4"
(2,743 mm x 178 mm x 102 mm)
15 lbs. (7 kg)
Sediment Removal
Sediment
108" x 7" x 4"
(2,743 mm x 178 mm x 102 mm)
40 lbs. (18 kg)
Phos Filter
Phosphorous
108" x 7" x 4"
(2,743 mm x 178 mm x 102 mm)
66 lbs. (30 kg)
Heavy Metal Removal
Zinc, Lead, Copper, and Heavy Metals
108" x 7" x 4"
(2,743 mm x 178 mm x 102 mm)
35 lbs. (16 kg)
Customers Who Viewed This Product Also Viewed

Dewatering Bags
Erosion Control:
Coir Wattles
Construction BMP:
Coir Sediment Control