Current Page
---
Temporary Straw Erosion Control Blanket
Question: Hello. I am looking for a temporary straw erosion control blanket that I can use for temporary erosion control in my area. I need to know how long these mats will last and what type of conditions they can be used in. I know they are temporary so does that mean no water?
Answer: Straw blankets are a great option for temporary erosion control, but can feature a slightly shorter lifespan when compared to some of the stronger erosion control materials, such as coir. The lifespan and/or options for use with these kinds of mats will vary depending on the specific materials and netting used to construct the matting.
Single Net Straw Blanket
In general, most erosion control mats will feature either a single net or double net construction. A single net straw blanket will typically offer more of a short-term lifespan and should only be used in areas with a low flow and a low slope ratio (not steeper than a 3:1 slope).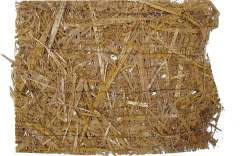 Single net straw blankets will use some of the following features:
100% Wheat Straw Construction
Photodegradable Thread and Netting
Medium Term Lifespan (up to 12 months)
These short-term mats will operate best if used in the following conditions:
Slopes: 3:1 or less
Flows: Low flow
Double Net Straw Blanket
If you are looking for increased erosion control that still features a straw blanket design, you might try a double net straw blanket. These blankets have the same inner contents of 100% wheat straw, but use a double photodegradable netting for increased lifespan and a wider range of location options.
When compared to the single net straw blanket, double net blankets can be used in some of the following conditions:
Slopes: 3:1 to 2:1
Flow: Medium Flows
Lifespan: Typically 12 to 24 months (please check on product page, some double net blankets are designed for extremely short term use such as 90 days)
In general, a temporary straw erosion control blanket will offer less strength than coir and are great for temporary control. To increase the strength of your erosion control straw mat, you might also consider using a mat that features a straw and coir material combination. This will add increased strength to a standard straw design to help strengthen erosion control in your area.
View all Erosion Control Blankets
If you are looking for something that is more long term, or if you are looking for erosion control that can be used in demanding areas, please check out our selection of Erosion Control Mats.
If you have questions about our products give us a call at +1-772-646-0597 or request a price quote.
---