Geotubes For Seawalls & Coastal Protection
Breakwater Tubes for Erosion Control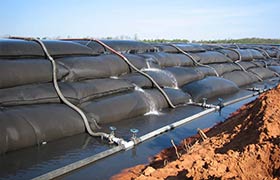 Geotubes for seawalls and coastal protection create a synthetic barrier for you to use along shorelines and beaches to help control erosion. Often referred to as breakwater tubes, these barriers act as the first line of defense against waves and tidal action. As waves crash onto the beaches and shorelines, they hit the seawall, limiting the exposure to beaches and dunes. Geotube seawalls provide coastal defense for canals, bays and other areas, minimizing the eroding impact of waves and helping retain your sand/shorelines.
Our breakwater tubes are made from our specially woven geotextile or composite fabric, engineered to withstand outdoor elements and exposure. This system is designed with close-ended tubular units, attached with filling ports spaced at regular intervals. The durable material and high-strength fabric makes them an excellent choice to protect your home, beachfront properties, or other coastal areas. Our geotubes for coastal protection are available in a variety of lengths and circumferences to accommodate your different erosion control applications.
Our friendly staff is here to help you get the exact product you need!.


Geotube Breakwater Features
Material: High Strength Woven Geosynthetic Fabric
Accommodates High Water Flow
Multiple Lengths and Circumferences Available
Designed for A Range of Environmental Conditions
Ideal for Breakwaters, Revetments, Dykes and Groynes
Geotube Breakwater Benefits
Protects Beaches and Shorelines
Helps Reduce Erosion Along Shorelines
Protects Homes and Hotels
Economical Solution for Beach Protection
Reduces Damaging Wave Action Along Shorelines
Acts as a Natural Barrier Along Beaches
Standard Erosion Control Applications
Breakwater for Hotels and Beach Front Homes
Coastal and Marine Construction
Land Reclamation
Offshore Structures
Copper Removal
Dewatering in Waste Water Plant
Agricultural Compost
Dykes and Groynes
Revetments
Sediment Dewatering
Sludge Removal
Mining Operations
Questions about geotubes for erosion control? Call our Erosion Control Products team at 1-863-261-8388 or fill out our quote request form to discuss your requirements.
Breakwater Tube Technical Specifications
Product
Geotube Size
Tube Capacity
Woven
FW404 7.5' x 300'
FW404 10' x 300'
FW404 14' x 300'
3.25' LF
5' LF
7' LF
Non Woven
4 oz. 6.5' x 360'
6 oz. 11.5' x 360'
8 oz. 6.5' x 360', 11.5' x 360'
3.25' LF
5.7' LF
3.25' LF, 3.25' LF
Geotextile Tubes have also been used for sediment, sludge, and dredging locations.
Customers Who Viewed This Product Also Viewed

Coir Wattle
Silt Fence
Breakwater Geo Tube
Have additional questions about geotextiles? talk with one of our specialists at 1-863-261-8388. Contact Us.
If you have questions about geotubes for erosion control, give Erosion Control Products a call at 1-863-261-8388 or request a price quote.