Bulk Coir Products
Erosion Control Solutions with Coir Products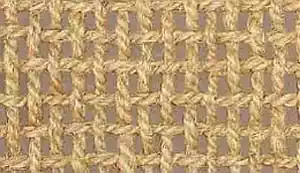 Bulk coir products can be helpful for contractors and landscapers. Whether stabilizing a streambank with coir logs or preventing slope erosion with coir blankets, these products are found on most job sites. The most economical and time-saving option for a business is to buy bulk coir. With a pallet of coco coir ready at the warehouse, projects run smoothly from planning to implementation without waiting for materials to arrive.
Erosion Control Products offers many coir products in bulk quantities with no minimum order necessary.
Our friendly staff is here to help you get the exact product you need!.


Want to know more about erosion control products? See our helpful guide to all the Erosion Control Products we offer!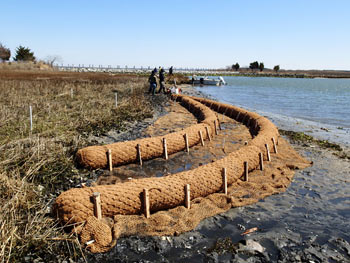 Coir Logs Encourage Shoreline Stabilization
One of the most popular erosion control solutions,
erosion control coir logs
are used in a variety of applications, including slope stabilization and riverbank protection. Placing a number of coir logs along an eroding shoreline will keep it from degrading any further and allow for a revegetation campaign. Such a project requires a bulk coir order that Erosion Control Products can fulfill.
Diameter
12"
16"
20"
Weight
5.5 lbs./ft.)
9.5 lbs./ft.
15 lbs./ft.
Density
7 lbs./ft³ or
9 lbs./ft³
7 lbs./ft³ or
9 lbs./ft³
7 lbs./ft³ or
9 lbs./ft³
Lengths
10 ft.
10 ft.
10 ft.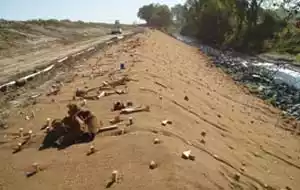 Coir Blankets and Mats Protect From Soil Erosion
When it comes to soil stabilization,
erosion control matting
is an excellent option. With multiple models available for different water flow rates and slope angles, there are erosion control solutions for every job. Keeping a pallet of coco coir on hand for landscaping and soil erosion prevention helps managers stay on track and meet project deadlines. A coir mat bulk order means not being caught unprepared.
Product
Open Area
Weight
Sizes
Coir Mat 40
65%
11.8 oz/yds²
6.56 ft x 165 ft
13.1 ft x 165 ft
Coir Mat 70
50%
20.6 oz/yds²
6.56 ft x 165 ft
13.1 ft x 83 ft
13.1 ft x 165 ft
Coir Mat 90
39%
26.5 oz/yds²
6.56 ft x 165 ft
13.1 ft x 83 ft
13.1 ft x 165 ft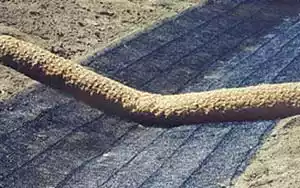 Coir Wattles Create Flexible Erosion Control
Many landscaping projects require a level of flexibility that is met with erosion control wattles. Outlining lawn areas and flower beds is quick and easy, while requiring no maintenance as time goes on. Everything grows according to the landscaping plan, while enriching the soil and helping plants establish themselves. With such needs in almost every job, keeping a pallet of coco coir wattles for future use is smart.
| | | |
| --- | --- | --- |
| Diameter | 6 in (15 cm) | 9 in (23 cm) |
| Length | 10 or 20 ft (3.05 or 6.10 m) | 10 or 20 ft (3.05 or 6.10 m) |
| Weight | 1.5 lbs/ft (2.23 kg/m) | 3.0 lbs/ft (4.46 kg/m) |
| Density | 7 lbs/ft³ | 7 lbs/ft³ |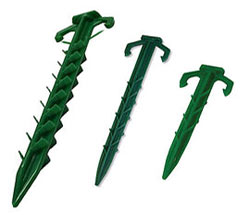 Biodegradable Stakes Available by the Case
Coir products need to be kept in place to be effective. From blocks to mats,
biodegradable landscape stakes
keep coir steady and secure. The stakes degrade along with the coir, requiring little maintenance and feeding the surrounding area. Available in cases, there can never be enough stakes on hand to keep up with project demand.
Size
Quantity per Case
Lifespan
4"
1,000
24-36 months
6"
500
8"
300
Erosion Control Products is ready to help with all your bulk coir needs. For answers to common coir questions, visit the Coir Products FAQ.
See also this affordable USA made alternative to coir: Excelsior Erosion Control Excelsior Logs.
Questions about bulk coir? We can help! Call the Erosion Control Products team at 1-863-261-8388 or fill out our quote request form.