Erosion Control Products
Excelsior Biodegradable Erosion Control
Our Excelsior erosion control products made with biodegradable, eco-friendly fabrics include blanket/mats, wattles, and logs. Excelsior makes an excellent substitute for coir. It's biodegradable but it is much less expensive than coir and ships faster to you. All of our alternative erosion control products are produced with naturally strong and durable fibers from Aspen wood. Harvested Aspen wood is shredded into unique curls, creating interlocking fiber with barbed edges. This makes Excelsior perfect for erosion and sediment control applications such as slope stabilization and natural creation of borders along waterways and shorelines. Made in the US, our biodegradable erosion control saves you time and money!
Our friendly staff is here to help you get the exact product you need!.

or Contact us for additional information.
Note: Coir, like many products sourced from overseas, is less available due to trouble with supply and getting the products getting the products through port systems. Across the entire industry, Coir is not only less available, but also more expensive. However, we do have erosion control alternatives. Contact us to learn about our affordable and more readily available alternatives to coir, including these biodegradable options. Call or contact us for pricing or with questions at 1-863-261-8388.
Excelsior Erosion Control Products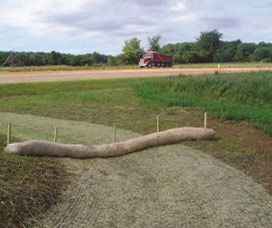 Excelsior erosion and sediment control products are constructed of all-natural, Aspen wood shavings that are used to make our alternative fabric. The curled fiber's structure allows soil to bond with it once it's wet, holding the soil in place. This makes it a great choice for vegetation regrowth and erosion control. Because it's 100% natural, it simply composts after a period of time, leaving nothing behind. The lifespan of our Excelsior products range from 1 to 3 years depending on their application. Our slope erosion and sediment control options give you a wide variety of uses. We offer:
See all of our available erosion control products on our erosion control overview page.
Contact Us
Questions about biodegradable products? Erosion Control Products can help! Call our team at1-863-251-5111 or fill out our quote request form.
Biodegradable Landscape Stakes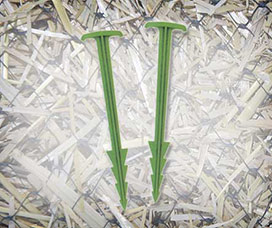 Whether using Excelsior blankets or logs as one of many of our erosion control methods, it is important that products are installed properly with the right supplies. Biodegradable Landscape Stakes make an excellent alternative to traditional metal staples and pegs. With a lifespan of 24 - 36 months, stakes never need to be removed. They degrade over time into water, carbon dioxide, and biomass. The alternating rib design, double hooks, and size variety (4", 6", and 8") ensure they can be used in all ground conditions, even hard or frozen soil. For all of our erosion control installation supplies, see our erosion control staples and stakes pdf.

Questions about biodegradable products? Erosion Control Products can help! Call our team at 1-863-261-8388 or fill out our quote request form.
Applications for Biodegradable Products
Our Excelsior biogdegradable erosion products can help reduce or eliminate erosion and sediment issues. These all natural erosion control products are used in a variety of applications, including:
Erosion Control
Streambank and Hillside Stabilization
Spill Containment
Beach Restoration and Clean Up
Revegetation Projects
Stormwater Filtration
Excelsior biodegradable alternatives are made in the USA from Aspen wood shavings, making them an eco-friendly choice for a wide range of applications. Whether you're needing wattle for perimeter control, logs for shoreline erosion and runoff filtration, or blankets for slope stabilization or vegetation regrowth, we can find the right sediment control solution.
See also this affordable USA made alternative to coir: Excelsior Erosion Control Excelsior Logs.
Check out all our available biodegradable geotextiles on the Erosion Sediment Control Products page.
Questions about biodegradable products? We can help! Call the Erosion Control Products team at 1-863-261-8388 or fill out our quote request form.



Customers Who Viewed This Product Also Viewed


Coir Products
Straw Blankets
Non Woven Geotextiles