Coconut Erosion Control Blanket
Coir Matting for Stabilization and Reinforcement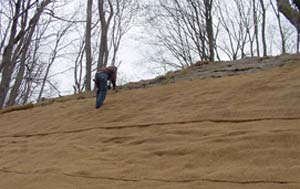 The coconut erosion control blanket is an excellent way to control erosion and stabilize slopes, soil areas, and hills. Coconut fiber blankets, also known as coir blankets or coir matting, are made from all natural fiber materials that will naturally biodegrade over a period of 2-5 years. This provides stabilization for extended periods of time, allowing for vegetation to take root.
Our biodegradable erosion control blankets are typically made from coir fibers and coir twine that is woven together to form a sturdy control matting option. The fiber is natural to prevent harm to surrounding wildlife and vegetation. The coconut erosion control blanket is often specified in jobs for their high strength and natural fibers.
Our friendly staff is here to help you get the exact product you need!.


Coir Matting Features




Coconut Fiber Materials
Open Weave
High Strength Design
Biodegradable Materials

Additional Items include Stakes and Staples

Coir Matting Benefits




Long-Term Control
Typical Lifespan of 2-5 years
Open Weave for Vegetation
Easy to Use and Install
Several Strength Options for Slopes up to 3:1, 2:1 or 1:1
Standard Coconut Erosion Control Blanket Applications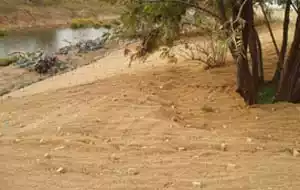 Large Erosion Control Projects
Bank or Shoreline Stabilization
Stabilization on Slopes and Hills
Erosion Control for Vegetation
Coir Matting Technical Specifications
| Matting | Weight | Recommended Slope | Recommended Flow |
| --- | --- | --- | --- |
| Coir Mat 40 | 11.8 oz./yd² | 3:1 or less | Up to 8 fps |
| Coir Mat 70 | 20.6 oz./yd² | 2:1 or 1:1 | Up to 12 fps |
| Coir Mat 90 | 26.5 oz./yd² | 1:1 or greater | Up to 16 fps |
Biodegradable erosion control blankets are great options for slope and riverbank stabilization. The tough material and high strength allows it to be used in several different locations to help control erosion and strengthen areas to allow for vegetation to take root. Due to its natural fiber, the coconut erosion control blanket is also commonly used in projects for stabilization and restoration.
Questions about coir blankets? We can help! Call our team at 1-863-261-8388 or fill out our quote request form to discuss your requirements.