Coconut Mat Erosion Control
Coir Erosion Mat Comparison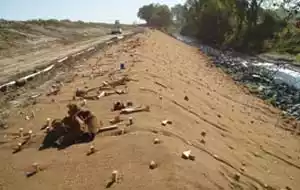 Coconut mat erosion control products feature biodegradable options for erosion control on hills, slopes, banks and other locations. The standard coconut coir mat/netting is made in a couple of different strengths and models depending on the requirements of your location.
When looking through these coconut fiber mats, many customers wonder what the difference is between various models of these coir mats. Please view the chart below to check out a comparison between these coir erosion mats. In addition to these coconut coir models, we also offer several straw and wood fiber erosion control mats.
Our friendly staff is here to help you get the exact product you need!.


Coir Mat Comparison
Product
Open Area
Weight
Sizes
Uses
Coir Mat 40
65%
11.8 oz/yds²
400 g/m²
6.56 ft x 165 ft
13.1 ft x 165 ft
Slopes: 3:1 or less
Flows: up to 8 fps
Coir Mat 70
50%
20.6 oz/yds²
700 g/m³
6.56 ft x 165 ft
13.1 ft x 83 ft
13.1 ft x 165 ft
Slopes: 2:1 or 1:1
Flows: up to 12 fps
Coir Mat 90
39%
26.5 oz/yds²
900 g/m²
6.56 ft x 165 ft
13.1 ft x 83 ft
13.1 ft x 165 ft

Slopes: 1:1 or greater
Flows: up to 16 fps
Coconut coir mats are made from a 100% biodegradable coconut coir material that allows them to stabilize areas while vegetation and other plants are allowed to take root. Depending on the slope and water flow in your location, different coconut coir mats may able to work better than others at controlling and stabilizing your area.
Coconut Fiber Mat Benefits
When compared to other erosion control mats, such as straw or wood fiber, the coconut coir mat can offer several advantages including the following:
Long Term Erosion Control (2-5 year lifespan)
Higher Strengths
Equipped for Steep Slopes
Open Weave Design for Planting Vegetation Through the Mat
Coconut Fiber Mat Applications
Coconut coir mats are the perfect option for several different erosion control applications including the following:
Hillside Stabilization
River Bank Restoration
Slope Stabilization
Shoreline Erosion Control
For our complete variety of erosion control products, please check out our Erosion Control Mats.
Questions about a coconut mat for erosion control? We can help! Call our team at 1-863-261-8388 or fill out our quote request form to discuss your requirements.