Coir Mat 40
Erosion Control Mats for Stabilization and Growth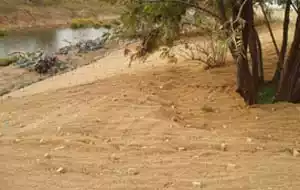 Coir Mat Rolls in bulk prices and delivered - Erosion Control Products' coir mat 40 is an excellent solution for any project site in need of long-term stabilization and vegetative growth with erosion control mats. Constructed with high strength coir fiber twine, erosion control mats have been successfully used along hills, slopes, and banks to stabilize and reinforce areas. Our erosion control coir mat is 100% biodegradable and features natural coconut fibers that are safe for the surrounding environment after installation.
The coir mat 40 gets its name from a manufactured standard weight of 400g/m? and standard coir twine weaved in a design that leaves 65 percent of space for planting seeds or vegetation. Recommended use includes 3:1 slopes and water flows up to 8 fps.
Our friendly staff is here to help you get the exact product you need!.


Erosion Control Coir Mat Features




Machine Spun Bristle Coir Twines
Semi-Permanent
Open Weave Construction
Recommended Slopes: < 3:1
Recommended Flows: up to 8 fps
Roll Sizing: Multiple Sizes Available

Erosion Control Coir Benefits




Safe for Wildlife and Areas with Environmental Concerns
100% Biodegradable
4-6 year Approximate Lifespan
Open Weave Design for Revegetating
Handles Seeding Before or After Installation
Strong and Robust Coconut Coir Fibers
High Strength Erosion Control
Provides Increased Support for Vegetation
Applications for Erosion Control Mats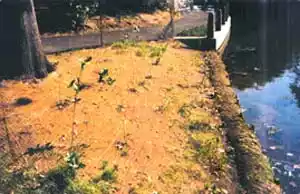 Soil Bioengineering
Ground Stabilization
Erosion Control
Bank Control and Stabilization
Supports Vegetation
Coir Mat 40 Technical Specifications
Property
Test Method
Details
Dry Tensile Strength
ASTM D 4595
Machine Direction 504 lbs/ft (7.35 kN/m)
Cross Direction 480 lbs/ft (7.0 kN/m)
Wet Tensile Strength
ASTM D 4595
Machine Direction 456 lbs/ft (6.65 kN/m)
Cross Direction 360 lbs/ft (5.25 kN/m)
Elongation at Failure Wet
ASTM D 4595
Machine Direction 36%
Cross Direction 31%
Thickness
ASTM D 5199
0.35 in (9 mm)
UV Stability
ASTM D 4355
80% min @ 500 hrs
Open Area
Measured
65%
Recommended Slope
Observed
< 3:1
Recommended Flow
8 fps (2.4 m/s)
Additional Product Information:
Coir Mat Roll Sizes
| Roll Size | Total Area |
| --- | --- |
| 6.56 ft x 165 ft (2 m x 50 m) | 120 y²/roll (100 m²/roll) |
| 13.1 ft x 165 ft (4 m x 50 m) | 240 y²/roll (200 m²/roll) |
Want to learn how to install erosion control mats? Review Erosion Control Products' Coir Mat Installation Guide.
Accessories: Staples, pegs, or stakes are essential coir mat acessories to secure your matting during installation. Contact the Erosion Control Products team for a quote! We offer wooden stakes, sod staples, biodegradable stakes, and more.
Erosion Control Mats for Any Location
Coir Mat 40
Coir Mat 70
Coir Mat 90
3:1 slopes or lower
Flows up to 8 fps
2:1 slopes or lower
Flows up to 12 fps
1:1 slopes or lower
Flows up to 16 fps
Review the entire line of Erosion Control Matting Products from Erosion Control Products.
Customers Who Viewed This Product Also Viewed
See also this affordable USA made alternative to coir: Excelsior Erosion Control Excelsior Logs.
Questions about coir mat 40 or our other erosion control mats? We can help! Call our team at 1-863-261-8388 or fill out our quote request form to discuss your requirements.