Coir Blankets and Plantbeds
Support for Wetland Restoration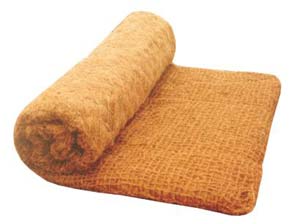 The coir blanket plantbed is a great way to germinate seeds and build up vegetation in environmentally sensitive areas. Constructed entirely from biodegradable coir, these blankets have been successfully implemented in projects involving wetland restoration, floating islands, aquatic spawning and even sediment traps.
Coir plant beds are made from 100 percent coir fiber fabric and come in two, three, and four inch (2" - 4") thicknesses. Due to their small size and easy installation, plant beds are a great option for wetlands, nurseries, and other small vegetation areas. Their natural yet strong exterior provides a reliable set up that keeps roots moist and helps establish vegetation. Standard sizing for the blankets are 15' L x 3' W.
Our friendly staff is here to help you get the exact product you need!.

or Contact us for additional information.
Coir Plantbed Features




2-4" Thick Coir Mattress Fiber Pad
High Strength Coir Fabric Blanket Case
Effectively Holds Seed in Place
Typical Size: 15' L x 3' W

Coir Plantbed Benefits




All Natural
Completely Biodegradable
Compact for Plant Booms
Effectively Holds Roots
No Danger to Surrounding Wildlife
Standard Erosion Control Applications
Revegetation
Nurseries
Floating Islands
Aquatic Spawning Grounds
Sediment Trap
Wetland Restoration
Coir Plantbed Technical Specifications
| | |
| --- | --- |
| Thickness | 2" - 4" (5 - 10 cm) |
| Length | 15 ft (4.6 m) |
| Width | 3 ft (0.9 m) |
| Inner Fiber Type | Mattress Coir Fiber |
| Outer Case Fiber | High Strength Coir Fabric |
| Optional Planting Holes | 2" to 5" Diameter |
Additional Coir Erosion Control Products

Working to provide easy and effective stabilization in a range of locations, coir products are also available in several additional models including:
We also offer 75 foot economy priced coir blanket rolls for stormwater management, erosion control, landscaping, roofing applications, and more. It is backed with a fiberglass mesh for structural strength, and can be easily cut to fit your application.
For these and other options, please check out all of our Erosion Control Products.

Customers Who Viewed This Product Also Viewed


Coir Wattles
Coir Matting
Biodegradable Stakes
Questions about a coir bed? We can help! Call our team at 1-863-261-8388 or fill out our quote request form to discuss your requirements.