Coir Blankets by Erosion Control Products
Biodegradable Coconut Blankets for Erosion Control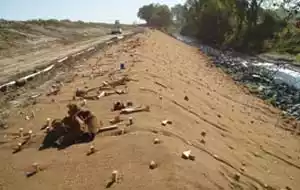 Coir blankets at bulk prices and ship to you. Coir blankets (also called coir mats or coconut blankets) are biodegradable products designed for long-term erosion control in steep areas such as riverbanks, streams, canals, and wetlands. Each coir blanket is made from 100% coconut fibers to create an erosion control solution that is effective and biodegradable. Each blanket is designed with outer double-net jute with a 100% coconut coir interior. With this design, coconut blankets are an excellent choice for areas with slopes up to 1:1 and/or featuring high flows.
Erosion Control Products' erosion control blanket is rated to last up to twenty-four (24) months to provide long-term, reliable coverage in any restoration project. Coconut blankets have been used for erosion control, stabilization and temporary reinforcement while vegetation is allowed to take root. Additional options include temporary straw blankets and long-term coir netting.
Want to know more about erosion control products? See our helpful guide to all the Erosion Control Products we offer!
Coir Blanket Features




Made from 100% Coir Coconut Fiber
Netting Material: Double Jute
Thread Choices: Jute, Rayon or Cotton
Lasts up to 24 months (for longer term options, see Coir Mats)

Coir Blanket Benefits




Long-term Erosion Control
Netting and Threads are Biodegradable
Can be used on Steeper Slopes (1:1 slopes)
Provide structure and support to a wide variety of locations
Coir Blanket Applications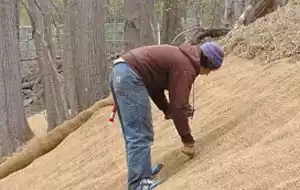 Stabilization of 1:1 to 2:1 slopes
Erosion Control in High-Flow Channels
Riverbank and Shoreline Stabilizing
Road Control
Coir Coconut Blanket Technical Specifications
Contents
100% Pure Coir Fiber
Netting
Biodegradable Double Jute
Thread
Biodegradable Jute Yarn
Standard Width
8 feet / 2.44 meters
Standard Length
112.5 feet / 34.44 meters
Life
Long Term, approx. 24 months
Best Use
1:1 to 2:1 Slopes
High Flow Channels
Thread Spacing
1 1/2 inches
Coconut Coir Matting Downloads and PDFs
Erosion Control Blankets include a wide range of products for both long-term and short-term use. Products include coir fiber netting (lifespan of 4-6 years), temporary straw blankets (lifespan of 90 days - 2 years) and coconut/straw fiber mixtures. We can help you select the right erosion control solution for your project.

Customers Who Viewed This Product Also Viewed



Erosion Control:
Coir Blanket-C2
Erosion Control:
Single Straw Blanket
Straw Erosion Blanket:
Wheat/Straw/Coir
Questions about erosion control blankets? We can help! Call our team at 1-863-261-8388 or fill out our quote request form to discuss your requirements.