Straw Erosion Blanket

Straw Blanket Promotes Vegetative Growth
Straw erosion blankets are a high strength erosion control matting designed to offer the stability required to help your vegetation grow faster. Manufactured with a blend of 70% wheat straw and 30% coir coconut fiber, these blankets help to stabilize swales, hillsides, moderate slopes, low flow channels, and other areas with low or moderate flow conditions.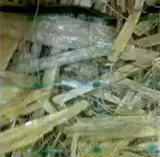 As part of our short-term erosion control products, these blankets work to stabilize areas until vegetation and seedlings take root. Typical lifespan for the mat is up to two years.
Our friendly staff is here to help you get the exact product you need!.


Straw Erosion Control Blanket Features
Interior Fibers: 70% Straw and 30% Coconut
Fibers Evenly Distributed Throughout Blanket
Top Netting: UV Stabilized
Lifespan: Up to 24 months
Wheat, Straw Erosion Control Blanket Benefits
Perfect for Longer Short-Term Projects (up to 2 years)
Safe for Outdoor Use
Easy to Install
Offers Dimensional Stability
Straw Erosion-Blanket
Technical Specifications

Property

Test Method

Typical Value English

Typical Value Metric

Mass/Unit Area

ASTM D-6475

8.8 oz/yd2

298 g/m2

Thickness

ASTM D-6525

0.40 in

10.2 mm

Tensile Strength

ASTM D-6818

100 x 100 lb/ft

1.5 x 1.5 kN/m

Elongation

ASTM D-6818

30%

30%

Functional Longevity

Observed

Up to 24 months

Up to 24 months

Roll Sizes

-

8 ft x 112.5 ft

2.45 m x 34.29.5 m

Roll Weights

-

Approx. 55 lbs

25 kg

Wheat Straw Erosion Control Applications
Support in Swales
Use in Low-Flow Channels
Stabilization on Moderate Slopes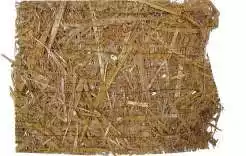 This straw erosion blanket is one of many erosion control products equipped to help with short-term erosion control and soil stabilization. For vegetation or materials that requires a short-term options (less than 2 years), please feel free to also check out our range of Straw Blankets. These blankets are made from 100% wheat straw and feature either a single or double net design.

Customers Who Viewed This Product Also Viewed:


Questions? We can help! Call our team at 1-863-261-8388 or fill out our quote request form to discuss your requirements.