Straw Erosion Blankets

Landlok® CS2 Wheat Straw/Coir Blanket
Wheat Straw/Coir Blanket
The Landlock® CS2 straw erosion blankets are a high strength matting designed to offer the stability required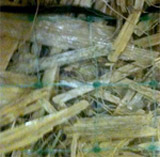 to help your vegetation grow faster. Manufactured with a blend of wheat straw and coconut fiber (70% straw, 30% coir), these blankets help to stabilize swales, hillsides, moderate slopes, low flow channels and otherareas with low or moderate conditions.
As part of our short-term erosion control products, these blankets work to stabilize areas until vegetation and seedlings take root. Typical lifespan for the mat is up to two (2) years.
Features:
Interior Fibers: 70% Straw and 30% Coconut
Fibers Evenly Distributed Throughout Blanket
Top Netting: UV Stabilized
Lifespan: Up to 24 months

Benefits:
Perfect for Longer Short-Term Projects (up to 2 years)
Safe for Outdoor Use
Easy to Install
Offers Dimensional Stability

Typical Erosion Control Applications:
Support in Swales
Use in Low-Flow Channels
Stabilization on Moderate Slopes

Straw Erosion-Blanket
Technical Specifications

Property

Test Method

Typical Value English

Typical Value Metric

Mass/Unit Area

ASTM D-6475

8.8 oz/yd2

298 g/m2

Thickness

ASTM D-6525

0.40 in

10.2 mm

Tensile Strength

ASTM D-6818

100 x 100 lb/ft

1.5 x 1.5 kN/m

Elongation

ASTM D-6818

30%

30%

Functional Longevity

Observed

Up to 24 months

Up to 24 months

Roll Sizes

-

8 ft x 112.5 ft

2.45 m x 34.29.5 m

Roll Weights

-

Approx. 55 lbs

25 kg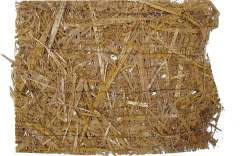 This straw erosion blanket is one of many control products equipped to help with short-term erosion control and soil stabilization. For vegetation or materials that requires a short-term options (less than 2 years), please feel free to also check out our range of Straw Blankets. These blankets are made from 100% wheat straw and feature either a single or double net design.

Customers Who Viewed This Product Also Viewed:


Questions? We can help! Call our team at +1-772-646-0597 or fill out our quote request form to discuss your requirements.