Current Page
---
Coir Erosion Control Blanket
Coir Blanket
Double Net Coir Blanket
The Coir Erosion Control Blanket is double net matting designed to offer increased support and stabilization in your location. Constructed with a blend of coconut fibers, polypropylene mesh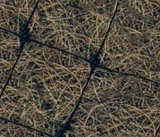 netting and polypropylene thread, these coir blankets are equipped to provide stabilization in your area for up to three (3) years! This allows seeds and vegetation to take root, creating a stronger erosion control system.
Great for use in swales, low-flow channels and on moderate slopes, these coconut fiber blankets will give you the long-lasting quality required for some vegetative growth or stabilization.
Features:
Made using Coconut Fiber
Covered with Polypropylene Netting
Netting UV Stabilized
Uses UV Stabilized Polypropylene Thread

Benefits:
Can be used for Long-term use
Easy to Install
Safe for Storage in Outdoor Conditions
Gives your Location Stability to Facilitate Growth
Degrades Slowly over Designated Time Period

Typical Erosion Control Applications:
Support in Swales
Stabilization in Low-Flow Channels
Erosion Control on Moderate Slopes
Reinforcement of Shorelines and Riverbanks


Coir Erosion Control Blankets
Technical Specifications

Property

Test Method

Typical Value English

Typical Value Metric

Mass/Unit Area

ASTM D-6475

8.82 oz/yd2

298 g/m2

Thickness

ASTM D-6525

0.30 in

7.6 mm

Tensile Strength

ASTM D-6818

150 x 150 lb/ft

2.2 x 2.2 kN/m

Elongation

ASTM D-6818

25%

25%

Functional Longevity

Observed

Up to 36 months

Up to 36 months

Roll Sizes

-

8 ft x 112.5 ft

2.45 m x 34.29.5 m

Roll Weights

-

Approx. 55 lbs

25 kg
For additional matting options, please check out our Woven Coir Erosion Control Blanket. These blankets feature a woven design for increased stabilization and control on slopes and river banks.
Erosion Control Accessories

For stakes, pegs, staples and more check out our store!

Customers Who Viewed This Product Also Viewed:


Questions? We can help! Call our team at +1-772-646-0597 or fill out our quote request form to discuss your requirements.
---